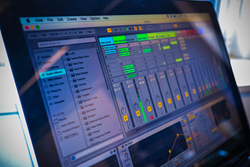 Students will learn the fundamentals of creating beats and will receive hands-on training throughout the workshop to learn how to create music from start to finish.
New York, NY (PRWEB) April 18, 2017
SAE Institute announced the expansion of its creative media offerings with the launch of Introduction to Beat Making, a four session workshop totaling 24 classroom hours. Debuting at the Atlanta and New York campuses, Introduction to Beat Making is a limited-seating workshop that will begin Saturday, June 3, 2017 with a registration cost of $699.00.
Introduction to Beat Making will provide students with the skills to get started producing their own beats. Students will have the opportunity to explore the entire beat making process using Ableton Live, a digital audio workstation. This hands-on workshop will provide artists, producers, and hobbyists a core understanding of Ableton Live, creating drum kits, and applying effects to the principles of music theory.
As an entry-level workshop, Introduction to Beat Making will explore the way beats are created in various genres including Hip Hop, R&B, and electronic music. Students will complete the course with a song personally mixed and mastered from start to finish, applying the skills they have learned.
"This workshop is a great starting point for anyone looking to get into the world of beat making and music production," says Gabriel Jones, National Director of Academics. "Students will learn the fundamentals of creating beats and will receive hands-on training throughout the workshop to learn how to create music from start to finish."
SAE Institute campuses in Atlanta and New York City are preparing to grow their existing creative media programs to provide audiophiles with knowledge and hands-on experience. Both campuses currently offer accredited programs in Audio that focus on the foundations of sound engineering and business principles of the entertainment industry.
"I am really excited to announce the Introduction to Beat Making as an accelerated workshop in addition to our in-depth audio degree and diploma programs," says Michael Bottrill, President and CFO. "For artists looking to learn more about Ableton Live and refine their production techniques, this is a great first step."
To learn more about SAE Institute, or to request additional information about the workshop, visit usa.sae.edu/beat-making
About SAE Institute
SAE Institute provides aspiring creative media professionals with a foundation of practical theory and valuable hands-on training in their chosen areas of concentration. Under the guidance of industry-experienced faculty, students gain the essential experience they need for entry-level jobs in the creative media industry. Students are supported in their job searches by SAE Institute's international network of alumni, many of who are leaders in the music, film, game arts, and live performance arenas. SAE Institute offers accredited programs in Audio, Animation, Film, Games, and Music Business focused on preparing students for employment in the creative media industry upon graduation. SAE Institute Group, Inc. is a part of Navitas LTD. Learn more at usa.sae.edu.
About Navitas
Navitas is an Australian global education leader, providing pre-university and university programs, English language courses, migrant education and settlement services, creative media education, student recruitment, professional development, and corporate training services to more than 80,000 students across a network of over 120 colleges and campuses in 31 countries. Learn more at Navitas.com.