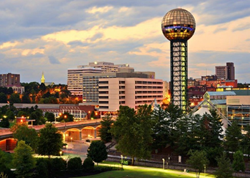 Nashville and Knoxville, TN are among the country's 10 hottest housing markets this year due to their quickly rising home values, low unemployment rates, strong income growth, and other quality lifestyle attributes.
Bluffton, SC (PRWEB) April 18, 2017
Marian Schaffer, Principal and Founder of Southeast Discovery, a real estate consulting firm specializing in guiding Baby Boomers with their real estate needs in the niche markets of retirement relocation and second homes in the Southeast region, recently shared eight reasons Nashville and Knoxville, Tennessee are among the hottest housing markets for 2017, as reported by Zillow.
"Nashville and Knoxville, Tennessee were named among the country's 10 hottest housing markets by Zillow in January 2017, in part, due to their quickly rising home values, low unemployment rates, and strong income growth," said Schaffer. "We weren't at all surprised by these findings, as we've been helping Baby Boomers relocate to these two areas for over a decade, and have a solid understanding of why they're such attractive places to live."
According to Schaffer, these eight advantages make Knoxville and Nashville, Tenn. especially popular housing markets for relocating Baby Boomer & retirees:
Low cost of living: "Retirees are concerned about outliving their money, so cost of living is a key determining factor when it comes to where they choose to live," said Schaffer. "Bankrate found Tennessee's cost of living to be the second lowest in the country, just behind Oklahoma, and both Nashville and Knoxville have been recognized for their affordability compared to other U.S. metro areas."
Taxes: "The nonpartisan Tax Foundation found Tennessee's state and local tax burden to be the third-lowest in the nation, and residents pay no income tax except on interest and dividends," Schaffer pointed out.
Weather: Tennessee has a mostly mild four season climate. The state was ranked 15th nationwide for its temperatures, meaning its weather is moderate most of the year. "This is especially appealing to our clients who are relocating from the Northeast and Midwest, who are no longer interested in spending their winters shoveling snow and dealing with severe weather and all its inconveniences."
Employment opportunities: Nashville and Knoxville enjoy low rates of unemployment. "Both cities offer many employment opportunities in the health care field," said Schaffer. "In Nashville, Vanderbilt University, the Hospital Corporation of American (HCA) and Community Health Systems (CHS), along with smaller health care startups, employ thousands of residents. In Knoxville, more than 12 large hospitals and health centers, including The University of Tennessee Medical Center, Blount Memorial Hospital, East Tennessee Children's Hospital and Tennova Healthcare employ a large segment of the population. Both cities are also blessed with major universities – Vanderbilt in Nashville and University of Tennessee in Knoxville – providing additional employment opportunities, and of course, Nashville has the music industry, in addition to quite a large number of small businesses."
Access to medical care: "Retirees are especially sensitive to choosing an area that offers excellent medical care nearby," said Schaffer. "Both Nashville and Knoxville feature multiple well-regarded hospitals and medical centers." In Knoxville, there's The University of Tennessee Medical Center, Blount Memorial Hospital, and Tennova Healthcare network, to name just three, while Nashville has Baptist Hospital, Saint Thomas Hospital, ranked as one of the "Best Hospitals in Metro Areas," according to U.S. News & World Report, Centennial and Skyline Medical Centers, and Vanderbilt University Hospital.
Friendly people: "Tennessee is known for its friendly people," said Schaffer. "Many of the clients we've helped relocate to the Nashville and Knoxville areas over the years have commented on how warm and inviting their new community is."
Convenient location: Both Knoxville and Nashville enjoy proximity to several major highways, making it easy to get to many other areas and cities within an easy day's drive or less. Nashville is 180 miles west of Knoxville on I-40; Atlanta is 214 miles south of Knoxville on I-75. McGhee Tyson Airport in Knoxville has 12 gates, but offers many connecting flights to larger international airports. The Nashville International Airport is located just off Interstate 40 and is a 15-minute drive from downtown, offering flights to major airports across the country and internationally.
Entertainment, recreation, and cultural activities: "One of the best things about Tennessee, and the metro areas of Knoxville and Nashville, are the multitude of entertainment, outdoor recreation and cultural activities available," said Schaffer. "There are plenty of lakes for boating and some of the best golf courses in the country here, and hiking, rafting and other plentiful outdoor activities in the mountains of East Tennessee near Knoxville. And as two of the state's four main cities, Knoxville and Nashville offer a wide range of arts and cultural amenities. Plus, there's the music industry in Nashville, and Knoxville was recently named one of the most fun cities in the country."
If you're considering relocating to the Southeast but don't know how or where to start your search, we can help. We've been assisting folks who come to our site from all over the U.S. streamline the process so they can find the right area and community to call home in the Southeast for over a decade. Feel free to complete our complimentary online questionnaire here, and we'll send you feedback on the best areas and specific communities that may be just right for you.
About Southeast Discovery
Since 2004, Southeast Discovery has been a trusted resource for candid information and insight on communities, developments, and general real estate in the Southeast. Through its highly-ranked web portal, newsletter and blog and its one-on-one work with clients, Southeast Discovery helps buyers actively looking for a retirement or second home in the Southeast navigate the process of identifying the right area and community for their needs. To learn more, visit http://www.southeastdiscovery.com/