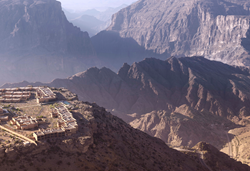 "Inclusion in the prestigious Hot List is testament to the impressive products and immersive luxury experiences that guests can enjoy at Anantara." Dillip Rajakarier, CEO, Minor Hotels
Bangkok, Thailand (PRWEB) April 18, 2017
Condé Nast Traveler US today announced the winners of its 2017 HOT LIST, with both Anantara Peace Haven Tangalle Resort in Sri Lanka and Anantara Al Jabal Al Akhdar Resort in Oman recognized in the prestigious annual list.
The Condé Nast Traveler Hot List 2017 recognizes the best properties around the world that have opened their doors in the last year. Dillip Rajakarier, CEO of Minor Hotels, parent company of Anantara, comments, "We are absolutely delighted that not one but two of our newest Anantara resorts have made the 2017 Condé Nast Traveler Hot List, which is a great achievement and acknowledgement of our luxury Anantara brand. Both properties have established themselves as a leading luxury resort in their respective countries, and their inclusion in the prestigious Hot List is testament to the impressive products and immersive luxury experiences that guests can enjoy at Anantara hotels and resorts."
Anantara Peace Haven Tangalle Resort offers guests a unique resort experience in Sri Lanka. Located on the island's southern coastline, the resort is set on a secluded stretch of beach amidst a 21-acre coconut plantation. Each of the 120 guest rooms and 32 private pool villas exude serenity and the spacious interiors blend comfortable luxury with modern amenities. On the culinary side, guests can enjoy Sri Lanka's distinctive flavors and international tastes with dining experiences include a stunning cliff edge, shoreline and poolside settings. A plethora of landscapes and activities is easily accessible, including varied wildlife in the southern national parks and ocean, and learning to surf at nearby unspoiled beaches.
The property has established itself as one of the leading resorts on the island and has achieved significant international recognition during the first year of opening, including being named in Condé Nast Traveler US 2016 Readers' Choice Awards as #44 in the Best Resorts in the World and #9 in the Top Resorts in Asia.
Magnificently perched 2,000 meters above sea level on the rocky contours of Oman's 'Green Mountain', Anantara Al Jabal Al Akhdar Resort is the highest five star resort in the Middle East and second highest in the world. A scenic two-hour drive from Muscat, the resort offers an exhilarating escape for culture and history enthusiasts and is sensitively designed to sit comfortably within its remarkable locale while ensuring the breath-taking view remains center-stage. With 82 guest rooms and 33 pool villas furnished with rich and authentic Omani designs, the property beckons the intrepid traveler for immersions in a rich local culture and indulgent adventures, including wadi hikes, rock climbing, via ferrata, mountain biking and more.
"Our annual Hot List, a rigorous selection of our favorite new hotel openings of the past year, is a predictor of what properties will stand the test of time, make history, and let you reimagine how you want to live and travel," commented Pilar Guzmán in her editor's letter, "Our goal is that these properties spark the heat of early romance in the beginning, and then eventually settle into enduring love."
Anantara currently operates 38 hotels and resorts in 12 countries, having recently added its first property in Europe with the launch earlier this month of Anantara Vilamoura Algarve Resort in Portugal.
Editor's Notes:
Anantara is a luxury hospitality brand for modern travelers, connecting them to genuine places, people and stories through personal experiences, and providing heartfelt hospitality in the world's most exciting destinations. The collection of distinct, thoughtfully designed luxury hotels and resorts provides a window through which to journey into invigorating new territory, curating personal travel experiences.
From cosmopolitan cities to desert sands to lush islands, Anantara connects travelers to the indigenous, grounds them in authentic luxury, and hosts them with passionate expertise. The portfolio currently boasts over 35 stunning properties located in Thailand, the Maldives, Indonesia, Vietnam, China, Cambodia, Sri Lanka, Mozambique, Zambia, the UAE, Qatar, Oman and Portugal, with a pipeline of future properties across Asia, the Indian Ocean, Middle East and Africa.
For more information on Anantara Hotels, Resorts & Spas, please visit http://www.anantara.com.
Follow us on Facebook: http://www.facebook.com/anantara; Twitter and Instagram: @anantara_hotels
About Condé Nast Traveler
As the most discerning, up-to-the-minute voice in all things travel, Condé Nast Traveler is the global citizen's bible and muse, offering both inspiration and vital intel. Condé Nast Traveler is the most trusted and celebrated name in travel with six National Magazine Award wins and 26 nominations in its 28-year history. Advertising Age named Pilar Guzmán Editor of the Year in 2014 and CNTraveler.com attained 3 Webby Awards in 2015. http://www.cntraveler.com
About Global Hotel Alliance:
Global Hotel Alliance (GHA) is the world's largest alliance of independent hotel brands, bringing together 35 brands with 550 hotels in 76 countries. GHA uses a shared technology platform to drive incremental revenues and create cost savings for its member brands. GHA's award-winning loyalty programme, DISCOVERY, provides nearly 10 million members exclusive opportunities to immerse themselves in local culture wherever they travel. For more information, visit http://www.gha.com