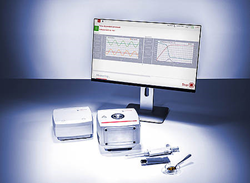 Ashland, Virginia (PRWEB) April 19, 2017
The brand new Thermo-optical Oscillating Refraction Characterization technique utilizes periodic thermal excitation and analyzes the optical response. This revolutionary approach enables determination of time-dependent processes e.g. polymerization and curing as well as temperature-dependent behaviors such as phase and glass transitions. Integrated mathematical models deliver the coefficient of thermal expansion. The measurement of all above parameters with virtually no sample preparation greatly simplifies laboratory routines and eliminates the need for further expensive instruments and equipment.
For more information on TORC 5000 and all other Anton Paar solutions, visit http://www.anton-paar.com.
Anton Paar GmbH was established in 1922 as a one-man locksmith's workshop. Today, over 2,000 employees worldwide develop, produce and distribute high-quality measuring instruments for the determination of properties such as density, temperature and viscosity as well as high-precision mechanical parts and assemblies. Anton Paar has strong links with universities and research laboratories worldwide. The company is owned by the Santner Foundation, which invests in research in the field of science and technology as well as in the rehabilitation of individuals with drug addictions.