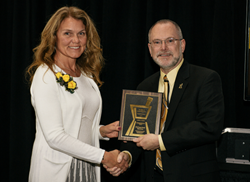 Bloomington, Indiana (PRWEB) April 18, 2017
Alisa Wright, founder and CEO of Singota Solutions, has received one of the 2017 Distinguished Alumni Awards from the Purdue College of Pharmacy in Lafayette, Indiana.
The Distinguished Alumni Award was established in 1984 to honor alumni of the Purdue Pharmacy Program for achievements in their careers and other scientific endeavors.
Wright began her career in the pharmaceutical industry with firms such as Eli Lilly & Co., Cook Pharmaceutical Solutions, and Baxter Pharmaceutical Solutions. During her 25 years of experience, she identified many industry gaps; in response, she founded Singota Solutions, formerly BioConvergence, to help advance medical products, bring them to market faster, and improve the lives of patients who need better healthcare solutions. Singota is in its 11th year of service.
Wright's roles in the industry have included bench-level scientist, project and business unit manager, president and most recently, Chief Executive Officer. Each of these opportunities resided in Indiana—a state full of opportunities to make a meaningful difference in the life sciences area.
The ceremony was held March 31, and included a panel with this year's recipients and current students of the school. Three other distinguished alumni recipients were recognized at this ceremony including Angela M. Falzone (Janssen Pharmaceuticals), S. Suresh Madhavan (School of Pharmacy, West Virginia University), and Q. May Wang (Hutchison MediPharma). In addition, the 2017 Career Achievement Award was presented to Steven W. Leslie (The University of Texas System).
About Singota Solutions
Singota Solutions is a service provider to the pharmaceutical, animal health, and medical device industries. Founded in 2006 as BioConvergence, the company is a woman-owned business operating in a 72,000-square foot facility in Bloomington, Indiana. The company's service lines include supply chain operations, drug formulation development, analytical methods development and testing activities, labeling and kitting operations, and aseptic manufacturing services. For more information, visit http://www.singota.com.