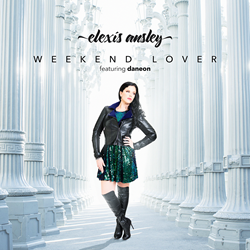 Elexis Ansley will be releasing her EDM single "Weekend Lover" on Friday, April 28.
Miami Beach, FL (PRWEB) April 18, 2017
Singing sensation, songwriter and multi-instrumentalist Elexis Ansley will be releasing her electrifying single "Weekend Lover," featuring dance/electronic dynamo Daneon on Friday, April 28. The energetic EDM collaboration will complement the artist's hotly-anticipated multi-genre EP, scheduled for release in Summer 2017.
"Weekend Lover" shows Elexis' prowess as a vocalist and talent for detailed arrangement as well as her ability to convey deep, thoughtful emotion through her music. The single, which touches on the redundancy of society's burdensome 40 hour work week, was produced by Daneon and Eero Turunen in Miami.
Classically-trained flautist and singer Elexis Ansley unleashes captivating, emotional music that tells tales about her personal experiences, transporting listeners to expansive worlds. Elexis' thoughtful lyrics illuminate inspirational themes like love, heartbreak, loss, longing, hope, self-discovery and the rejuvenating power of human connection and spirituality. Her acrobatic voice soars through recordings and live performances and her gravity as a performer invite audiences into her irresistible orbit and show her profound connection to her artistry and her message.
In the lively music scene in Miami, Elexis' multifaceted artistic path has been blazed by her unfaltering work ethic, passion for expanding her musical horizons and a mindful connection to creating art that is true to her soul. She studied music at Florida State University and earned a Bachelor of Arts in Music from Florida International University with flute as her principal instrument. She is also well versed in recording, producing, and sound engineering and acts as co-producer on her own tracks.
Elexis' latest EP, out this summer, will feature songs of many colors in a broad spectrum of styles and genres, including blues, reggae dancehall, acoustic and pop. It was produced by DJ Malakai and recorded at Miami's The Hit Factory Criteria, the legendary studio behind award-winning hits by James Brown, The Eagles, Michael Jackson and more. Elexis recently became engaged to Michael Jackson's long-time friend and confidant Dr. AJ Farshchian, who is also the executive producer on the album. Elexis channels Michael's joyful spirit and shares his goal of healing the world through her own work. She hopes to continue to bring people together through their shared love of music and the arts.
In 2009, Elexis lost over 100 lbs and continues to lead an active and healthy lifestyle with an emphasis on a a harmonious balance of mind, body, and spirit. In addition to singing, acting, and performing, Elexis is also a weight loss and life coach and is passionate about helping others, especially women, establish a positive body image and a healthy relationship with self. She has just finished filming a documentary of her personal story of losing over 100 lbs and hopes to inspire many others to realize that anything is possible. Rev. Elexis Ansley is also an ordained minister with the International Metaphysical Ministry and is currently pursuing her doctorate in Philosophy specializing in Holistic Life Coaching.
Weekend Lover will be available on iTunes, Amazon Music, Google Play, Spotify, Pandora, and Title on April 28. For more information about Elexis Ansley and her upcoming releases and live performances, please visit her on Facebook and at her artist website.