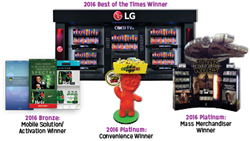 Chicago, IL (PRWEB) April 19, 2017
The Path to Purchase Institute announced a Call for Entries for the 2017 Design of the Times Awards (DOTs). The DOTs celebrate the successful execution of in-store and digital activations that engage shoppers and drive retail sales. The nomination process is open until June 2, 2017, and winners will be announced September 27, 2017, during the Path to Purchase Expo in Rosemont (Chicago), IL. Marketing executives from leading retailers and CPG companies such as Ahold USA, Crayola, Del Monte Foods, Pfizer and Walgreens determine the winners. Visit dot-awards.com for more information.
Judging is based on the successful execution of the 4C's of in-store and digital activation:

Command attention – Let the shopper know you're there.
Connect with the shopper – Utilize known brand equities for recognition.
Convey information – Tell a clear, compelling story.
Close the sale – Eliminate any purchase doubt.
One hundred and thirty-five finalists out of nearly 300 entries received bronze, silver, gold and platinum awards in 2016. Platinum winners in 2016 included LG Electronics, Design Phase, Old El Paso, Menasha Packaging Co., Sour Patch Kids, InnerWorkings, Star Wars Millennium Falcon Display and WestRock Merchandising Displays.
For 2017, the DOTs added a new award, the Consumer Goods Technology digital activation of the year, to better showcase the growth of digital marketing. New retail channel categories are also available this year as a response to industry trends and to provide more flexibility to entrants. The 2017 retail channel categories are:
Consumer Electronics Stores
Convenience Stores
Dollar Stores (NEW)
Drug Stores
Home Centers/Hardware Stores
Mass Merchants
Toy (NEW)
Liquor Stores (NEW)
Office Supply (NEW)
Pet Stores (NEW)
Specialty Apparel
Department Stores
Footwear Stores/Departments
Salons
Supermarket/Grocery Stores
Warehouse
About the Path to Purchase Expo
The Path to Purchase Expo is a highly concentrated, solution-driven conference and trade show designed to empower those who execute marketing and sales strategy along the path to purchase. Learn more at path2purchaseexpo.com.
About the Path to Purchase Institute
The Path to Purchase Institute is a global association serving the needs of retailers, brands and the entire ecosystem of solution providers along the path to purchase. It champions shopper-centric thinking and practice that help define the ongoing evolution of consumer marketing and the overall shopping experience. Learn more at p2pi.org.