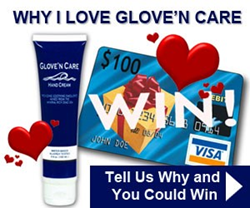 South Hackensack NJ (PRWEB) April 18, 2017
Essential Dental Systems wants to hear from Glove'n Care users why they love this product. During the next few months EDS will be running a contest for Glove'n Care users. Users are asked to submit a 30 sec-1 minute video talking about their experience with the product and why they love using it.
Glove'n Care is such a great product for helping to combat dryness from constantly changing gloves while working. The smoothness of a users hands after application and non-greasy feel is all part of the rich minerals used in the product obtained from the Dead Sea. Glove'n Care has been one of the most highly rated skin care products in the dental industry for years.
Show that love for Glove'n Care, submit a video through the link below or upload to social media using #loveglovencare.
The contest will be running until October 2017, at which time a winner will be chosen by EDS Management.
See complete rules for details before submitting.