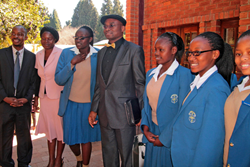 Gomif Partners to launch Accelerator17 2.0 in July this year.
New York (PRWEB) April 19, 2017
Socialpreneur Tey Por Yee (Larry) donated to the African initiative to build an Edu-Tech Hub for 400 students in Zimbabwe, as part of the Gomif Partners' Socialpreneurship corporate social responsibility (CSR) program.
Larry demonstrated in the Accelerator17 2.0 pre-launch how he participated in the program to build a smart classroom (EmergiHub) at St. Dominic's Girls High School that will connect 400 high school students to college students and professionals from around the world through interactive video calls that focus on educational mentorship and career advisement.
The project will provide young women with access to global mentors, helping them make informed decisions about their future after high school through exposure to university students and admission's officers who will help them understand how to develop a winning college application, as well as access to leading practitioners so that they will be better informed on how to set career goals and transition from college to the global job market.
Gomif Partners, co-lead by venture capitalist Tey Por Yee (Larry), shows the tech savvy startups on New York Cyber Workshop, how easy to contribute to society by using the Internet, besides making profit from business. Gomif will pick up an equity stake in qualified startups as part of the program. Interested candidates can visit http://www.gomif.com and submit business plans online. The program is preparing for the launch of Accelerator17 2.0 some time in July.
About Gomif Partners
Gomif Partners (GP) is an early stage investment advisory network joint lead by socialpreneur Larry Tey Por Yee and several private venture partners. GP's investors invest in and work with information technology companies at any stage but they are primarily focused on seed and early stage investments. GP is interested in socially responsible business models, especially renewable, retail, manufacturing, software, and services surrounding this concept. Visit http://www.gomif.com