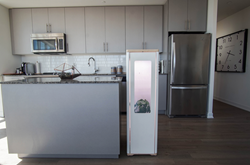 Waterloo, Ontario (PRWEB) April 19, 2017
On 4/20 Grobo will begin shipping first units of the Grobo One, a hydroponic grow box that takes the guesswork out of growing small crops of high quality food and cannabis. They will be the first company in this category to begin delivery to initial customers.
Grobo is an alumni of the HAX accelerator and Velocity incubator. They launched a pre-order campaign for their home growing technology in August 2016 and had to close sales early due to high demand. The company is now opening a second, limited round of reservations for their technology.
"Since states and countries have started moving towards legalization, the cannabis industry has seen a number of attempts at tackling IoT home growing," said Co-Founder and CEO Bjorn Dawson. "We have been working on Grobo since 2014 and are proud to have accomplished what we set out to do. Our technology is ready for market, and we are so excited to hear about our first customers' home growing experience."
Grobo One is an app-controlled system that does all of the work. Users simply input their plant information and relax. The hydroponic system monitors plants and makes sure that they're always watered and fed, even while growers are away.
Grobo One System

Automatic Watering - Hydroponic system gives plants the proper water and nutrients
Temperature & Humidity Control - Ensures that plants are always thriving in the right temperature
Fluid Glass - Switches from transparent to opaque to give plants the darkness they need to grow
Photon Lights - Specialized LEDs give plants the perfect amount of color and light, covering an 8-colour spectrum
Carbon Filter - Whatever smells the organic matter might produce are filtered away
Wi-Fi Enabled - Wi-fi connectivity sends real-time information to a mobile device
The sophisticated system is beautifully designed to fit seamlessly into people's homes and lives. The fully enclosed box measures 14" x 14" x 4' and is constructed in aluminum alloy with a powder-coat finish, an electrochromic plexiglass door and lacquered hard maple wood for the top cover and base.
A second, limited reservation campaign for Grobo One will begin on 4/20 for US and Canadian customers on the company's website. Units cost $1,599 USD if paid in one installment, or $1,699 USD with a $300 deposit. Units will begin shipping in April through to fall 2017. Media wishing to interview the founders should contact PR agent Allison Aitken at +1 514 703 4989.
About Grobo
Grobo was founded with one simple idea: Empower people to easily control what they consume, so that we can all live healthier lives. By applying cutting edge technology with the latest in horticulture research, the company builds solutions that will help people grow their own fresh food and medicine, and become more connected with the plants in their home.
Media Contact
Allison Aitken
allison(at)properpropaganda(dot)net
1-504-703-4989