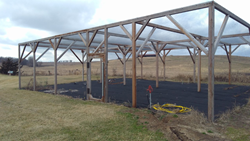 The bird netting is keeping critters & birds out saving the blueberries, strawberries, raspberries and tomato plants
Irvine, CA (PRWEB) April 20, 2017
Coming to the aid of a plant nursery in rural Williamsburg, Iowa, the leader in professional grade bird control products for commercial, industrial and residential applications provided its time-tested Heavy Duty Bird Netting to address a nagging pest problem.
The plant nursery in rural Williamsburg, Iowa was having a problem with pest birds and critters. Wild sparrows, coons, varmints, rabbits and even deer were getting into blueberries, strawberries, raspberries and tomato plants.
The nursery's owner enlisted the help of Bird B Gone's black ¾-inch Bird Netting and Bird B Gone installation hardware—cables, hog rings, etc.—to address and solve the problem by sealing out the nuisance invaders. The specially designed exclusionary bird netting was installed on the nursery's roof and around the perimeter of the wood-framed structure tight enough to keep pest birds and other critters from sneaking in.
Anchoring the cables to the ground posed an initial challenge. But this was overcome using 18-inch stakes welded to 4-foot rebar and driving the stakes into the ground, then using zip ties to secure cable. Bird B Gone's Shaun Johnson provided over-the-phone support, advising the nursery's owner to install perimeter cables on all sides, then installing the netting in panels.
Bird B Gone's high-density, flame resistant (270°F melting point) polyethylene knotted netting satisfied the rigorous demands of this venue. Rot-proof, non-conductive and stable in sub-zero temperatures, the netting is comprised of 12 monofilaments, each 12/1000" thick with U.V. stabilizers added. The monofilaments, twisted together to produce a strong twine with 410-430 twists per meter, are ISO 1806 protocol mesh tested in excess of 116 lbs.
The bird netting solved the issues the nursery had with both birds and critters. The nursery's owner remains "thrilled" with the netting, which continues to keep birds and critters out of the nursery. He noted that the netting is just as tight as the day it was installed. Even during a heavy snow, the netting bowed under the weight but when the snow was gone, the netting snapped back tight. Many of the owner's friends and neighbors have stopped by to admire the installation. The owner is finishing another structure to house quail, and he intends to use the same type of netting to protect these birds from predators.
Bird B Gone is the world's largest manufacturer and distributor of bird control products, providing effective and humane solutions to a bird-free environment. The company provides advice; training and installation services for those who need help with these and other bird control measures. For the complete line of products from Bird B Gone, call 1-800-392-6915; fax: 949-472-3116 or visit our website at http://www.birdbgone.com, e-mail: nobirds(at)birdbgone(dot)com.