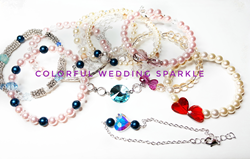 We wanted to create something different for the non cookie cutter bride--to have a collection with lots of color
BOSTON, MA (PRWEB) April 19, 2017
Sweet Charm Elegance has recently joined the wedding industry, announcing a new jewelry collection, featuring colorful palettes. Celebrating the unique bride, each piece shimmers and shines with colors of the rainbow. As featured on The Knot, the Nations #1 premier website for everything wedding, Sweet Charm Elegance's new collection is part of the wedding accessories line.
SCE's designer inspired wrap bracelets showcases a gorgeous blend of pastel shimmering pave beads, pearls and crystals from world renowned Swarovski©. Each piece features soft pinks, greens, aquamarine and tanzanite colors-a perfect gift for the bridesmaids. For the monochromatic color themed wedding, Sweet Charm Elegance featured set includes a gorgeous blend of greige, black and clear crystals (earrings, bracelet or set option).
The sparkle of the world-famous Swarovski© crystals and pearls brilliantly shines in our new collection. The finest quality Swarovski© stones in each Sweet Charm Elegance piece are the real deal — all stones are bought from certified and reputable Swarovski© dealers.
Sweet Charm Elegance is a small company based out of Boston, MA. Currently, Sweet Charm Elegance will be gifting multiple pieces to TV shows and upcoming award shows. Most recently, Sweet Charm Elegance has been featured in the 2017 Golden Globes Celebrity gift lounging, Los Angeles Patch, 2016 Billboard Music Awards, fashion bloggers Blondie in the City and The Boston Fashionista, March 2016 issue of Woman's World, The National Examiner, Girls World, news outlets, such as Univision D.C., and other online blogs. Sweet Charm Elegance continues to design eye-catching, gorgeous jewelry. Every woman deserves to sparkle.