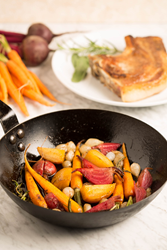 Threepenny Cafe engages in environmentally friendly practices daily in both sourcing ingredients and handling waste.
Charlottesville, VA (PRWEB) April 18, 2017
Threepenny Cafe, a farm to table restaurant located in Midtown Charlottesville, will host an Earth Day Celebration on April 22 as a fundraiser for University of Virginia Sustainability. Since Threepenny Cafe sources most of its products locally from farmers who grow organically and sustainably, creating a special event for Earth Day seemed perfect to Chef Jeff Deloff.
"All of our menus are based in sustainably produced food," Deloff said. "All of the meats we serve are local and pastured, and we work with local farmers to obtain the best in responsibly farmed produce, grains and dairy. And we're the only Monterey Bay Seafood Watch Restaurant Partner in Virginia."
Threepenny Cafe engages in environmentally friendly practices daily both in sourcing ingredients and in handling waste. Local products do not require shipping packaging or long distance transport. In addition, Deloff cooks nose to tail and root to leaf, wasting very little. Most of what is left goes to composting or recycling.
Threepenny Cafe's Earth Day Celebration will run from 4:00 to 10:00 pm and will include:

Fifteen percent of food sales will be donated to UVA Sustainability.
For further information and reservations, call 434-995-5277.
Threepenny Cafe is located at 420 West Main Street in Charlottesville, VA.
Full menus are online at threepennycafe.com.