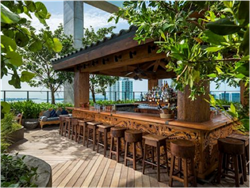 Miami, Florida (PRWEB) April 18, 2017
Available only during the month of April, Saké Lab at EAST, Miami's Sugar bar, is a five-course culinary experience featuring Sugar's signature Asian-inspired menu items paired with crisp and rich saké.
The lushly landscaped and expansive outdoor lounge SUGAR offers guests a variety of indoor and outdoor social gathering spaces to lounge, entertain, drink and dine. Building on the brands' signature EAST hotel rooftop space overlooking the skyline and harbor views of Hong Kong, Sugar Miami features views of downtown Brickell and Biscayne Bay.
The tasting is priced at US$180 for two people and the five-course experience includes:
Course 1
Hakutsuru Excellent Junmai Saké and Wok Tossed Edamame
Course 2
Hakusuru Superior Saké "Junmai Ginjo" and Salmon Crunch Roll
Course 3
Nirgori Sake "Sayuri" and Tuna Tartare on Rice Krupuc
Course 4
Soto Saké Super Premium "Junmai Daiginjo" and Sashimi (tuna, hamachi, salmon)
Course 5
Hakutsuru Plam Wine and Mochi, ice cream wrapped with rice dough.
To make a reservation, please click here.
Address:
EAST, Miami, 40th Floor
788 Brickell Plaza, Miami, FL 33131
Restaurant Hours:
Sun – Wed: 4 p.m. - 1 a.m.
Thu – Sat: 4 p.m. - 3 a.m.
(Food menu until 11 p.m. Sun – Wed, until 1 a.m. Thu – Sat)
About Swire Hotels and Swire Hotel Restaurants
Swire Hotels has been created to manage soulfully individual hotels in Hong Kong, Mainland China and the USA, providing a characterful experience for well-traveled, individually minded travelers who seek originality, style and personalized service. We create distinctive hotels with a sense of place that break with convention.
The company's first hotel, The Opposite House in Beijing, opened in 2008 and was followed by The Upper House, Hong Kong, and then by EAST, Hong Kong and EAST, Beijing. The Temple House in Chengdu opened in July 2015 and EAST, Miami opened in May 2016.
A restaurant division was set up in 2013 to manage the company's stand-alone restaurant operations. Our first restaurant, Plat du Jour, opened in November 2013 followed by Public and Ground Public in Quarry Bay. The Continental in Pacific Place opened in October 2014 and Mr. & Mrs. Fox in Taikoo Place in 2015. Our latest addition, the second Plat du Jour, opened in Pacific Place in January 2016.