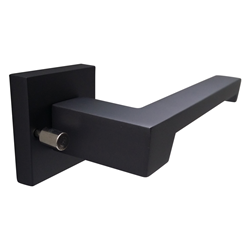 The hardware needs to look stunning, although we are very aware it's even more important it lasts a long time
Melbourne, Victoria (PRWEB) April 19, 2017
After leading the trend toward black tapware, HardwareBox has expanded to the diverse world of door hardware, with a whole new "Black" range.
Whilst traditionally known for tapware, Hardware Box has moved out of its comfort zone into the world of Hardware, so why the move? When asked, David Grollo replied, "We felt we had a great range of tapware and could see huge gaps in the market for quality door hardware. In particular, door hardware in different finishes to the normal chrome and satin look."
For David Grollo, this new direction had to stay true to the company's high focus on quality and positioning in the higher end of the market. "We knew we couldn't just produce and retail what everyone else was coming up with," David says, "so we developed a whole new Matt Black range."
The HardwareBox range features matt black door levers, flush pulls and entrance pulls. Finished with a rugged electroplated black finish, the range has quickly become popular amongst leading architects. The finish is thin enough to be able to see the textures of the metal and thick enough to ensure it can handle day to day use. As David explains, "the hardware needs to look stunning, although we are very aware it's even more important it lasts a long time." The range is available in numerous sizes and configurations to accommodate just about any installation context.
The HardwareBox collection works well with the simplified and understated designs which are now popular in the interior design industry. At present, the Black range is the hero collection at HardwareBox, although they are not ruling out other finishes to expand the offering.