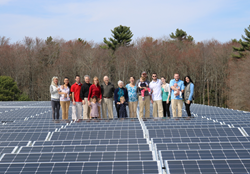 New Bedford, MA (PRWEB) April 19, 2017
Poyant Signs, one of the largest sign manufacturing and branding specialist in New England, tapped Beaumont Solar to design and construct a 330 kW DC solar array on the rooftop of their 50,000 sq. ft. company headquarters in New Bedford, MA.
"Solar Power had been something we were considering for our business", said Richard Poyant, President and owner. "As a family philosophy, we are constantly updating our manufacturing processes to be environmentally friendly where possible, and more of our customers require this of their vendors as well." The facility will be able to generate 100% of its energy needs on site. The new solar system also has built-in excess capacity to handle future growth in their electric demand.
"This project has been 10 years in the making with many family discussions on how our company could embrace significant recycling and renewable energy in a financially feasible manner", said Poyant. "My son Andrew has been a driving force on this project. As a Wetland Scientist for CDM Smith, he has a strong sense of environmental stewardship and is continuously challenging our company to the next level. He reminds us of our responsibility to make a positive contribution to preserving and improving our environment for future generations."
"From our first meeting, Beaumont explained all aspects of solar for us. Throughout construction they hit all their marks in a timely manner and made sure we were in sync with the utility and all our documents. It was pretty much a turnkey solution for us."
Ironically, Poyant and Beaumont Solar share an 80-year history together, first as cross town rivals when Beaumont Solar was also the Beaumont Sign company dating back to 1918 and the two companies often competed for projects head-to-head. When Beaumont decided to focus on renewable energy full time, it was Poyant who acquired the Beaumont Sign business. Knowing Beaumont shared the same commitment to quality and excellence in how they conduct their business, Poyant was confident Beaumont Solar was the right company to partner with in their decision to move forward with solar energy.
"It was a highly coordinated effort between our two companies, and Richard and his staff were top-flite partners on this project", said Phil Cavallo, President and CEO of Beaumont Solar. "Poyant Signs is another great example of a thriving New Bedford company, a staple in our community for many years, using local people in their work force." In fact, it was a team effort all –around with the New Bedford Economic Council, the City of New Bedford Conservation Commission and the Beaumont Solar staff of electricians from Local IBEW 223 all working together in a go-forward manner to ensure the system was commissioned before the end of 2016. "We have installed several commercial solar arrays on rooftops here in the business park this year and more currently underway. The economics of solar make sense when you consider the cost of energy over the long term", Cavallo said. "Businesses like Poyant Signs stay in business year after year by making sound business decisions, and solar is one of those sound decisions."
About Poyant
For more than 75 years, Poyant has provided design and custom manufacturing services to businesses throughout New England and beyond. Poyant's team of branding professionals is behind some of the most recognized names in New England including CVS Health, BayCoast Bank, Converse, Dunkin' Donuts, Town Fair Tire, and many local and regional businesses. We collaborate to bring our unique talents to each project and achieve extraordinary results. From custom signs to all-encompassing sign programs, we are committed to providing superior quality to all of our clients — on time and on budget. For more information, visit http://www.poyantsigns.com.
About Beaumont Solar
Beaumont Solar is a leading, full-service solar developer and Engineering, Procurement & Construction (EPC) company. We specialize in the development, design, building and long-term operation & maintenance (O&M) of solar systems in the commercial & industrial (C&I), utility, agriculture and public sectors. With a long history dating back to 1918, we have the experience, infrastructure and expertise to help maximize the value of underutilized assets (rooftop, carport, landfills, hazmat sites, and land). We help structure financing; both debt and tax equity, provide off-taker power agreements and ground or rooftop leases and determine site feasibility. Beaumont works closely with customers to help them meet financial, energy and sustainability goals by identifying the most efficient systems and cost effective financing. With offices in MA, RI, and NJ, we provide installation and support across the USA. To learn more, please visit http://www.beaumontsolarco.com.