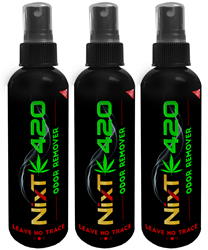 New NixT 420 Cannabis Odor Eliminator, Leave No Trace & Protect Your Privacy.
Minneapolis MN (PRWEB) April 25, 2017
Buyers and sellers in the thriving multi-billion dollar cannabis marketplace – from medical marijuana patients and recreational users to dispensaries and head shops –can't help but be heartened by the industry's current surge. But another thing that unifies them is a keen loathing for the tell-tale cannabis odor aptly described as "skunk smell." At last they can simply, safely and effectively end their aroma anguish thanks to a ground-breaking new product: NixT 420.
Made in the USA by bio-tech firm BlueGreen Systems™, NixT™ 420 is an advanced wide-spectrum odor eliminator spray that neutralizes cannabis odor-causing molecules on contact. It's suitable for use in spaces of all sizes – from homes and dorm rooms to cars and retail stores – and is safe on clothes, furniture and anything else not harmed by water. With a retail price of $12.95, a 4-oz. bottle of NixT™ 420 delivers up to 800 sprays and is free of masking agents and heavy fragrances.
While NixT™ 420 is ideal for rapidly and effectively eliminating signature cannabis scent and helping people protect their right to privacy. It also neutralizes strong and lingering odors from bathrooms, cooking, garbage, pets and so much more. NixT™ 420 does what other products can't.
To celebrate the new product launch, multiple bottles of NixT™ 420 are available at discounted prices: $34.95 for 3, and $144.95 for cases of 15. In addition, customers are invited to submit an original one-to-two minute video featuring NixT™ 420. Monthly winners will receive a 15-bottle case of NixT™ 420 and see their video-making talents showcased across the world.
More contest details, along with more information on NixT™ 420 and a secure online ordering form, are available at http://www.NixT420.com.
Customers are invited to follow NixT™ 420 on Twitter (@420LeaveNoTrace), Facebook (@Nixt420odorRemover), Instagram (420odoreliminator), and Google+.(NixT420).
For all other inquiries, including wholesale orders and media requests, contact Terry Sachetti at (844) 420-6367 or email Terryws(at)NixT420(dot)com.
NixT™ 420 is another fine product from BlueGreen Systems™, a green bio-tech company located in St. Paul, MN. Follow the news about upcoming products for the cannabis industry by subscribing to the NixT™ 420 newsletter. Join the quest to leave no trace at http://www.NixT420.com.