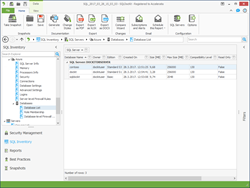 Considering all the challenges that every DBA faces, our primary goal for this release was to ease and SQL management from a single UI. - Frane Borozan, co-founder of Acceleratio and SQLDocKit product owner
(PRWEB) April 20, 2017
Acceleratio Ltd. released a brand-new version of its popular SQL Server administration tool—SQLDocKit. SQLDocKit can auto-discover SQL Server instances and document the entire SQL Server environment.
The tool creates a comprehensive SQL inventory with valuable information about SQL Servers, SQL Server BI Services, and databases.
Maintain system reliability with SQLDocKit
In this highly anticipated release, users will be able to perform even more complex admin tasks and handle their SQL maintenance with ease.
SQLDocKit 7.0.0 contains new major features such as Permission Management across multiple SQL Servers from a single UI to help you control all of the role permissions ever assigned in your organization. It also lets you detect SQL Servers on your workstation, gives you Automated Server Permission Management to choose whether to run management actions immediately or on a schedule, and offers support for Azure SQL Servers and databases, which enables you to audit your Azure SQL Server environment.
Security Management is SQLDocKit's most awaited feature, with the option to grant or revoke server principal permissions on multiple database engines, as well as drop logins.
For detailed information on exactly what's new in SQLDocKit 7.0.0, check out the What's New section. The next release includes significant improvements and relevant bug fixes. Refer to the SQLDocKit 7.0.0 official release note for a detailed list of improvements, add-ons, and bug fixes.
SQLDocKit is priced per SQL Server or consultant. The tool is available for download at http://www.sqldockit.com, and Acceleratio Ltd. is offering a 30-day free trial.
About Acceleratio Ltd.
Acceleratio Ltd., based in Zagreb, Croatia, is a software development company that creates high-quality enterprise software solutions for admins and consultants worldwide. The company develops tools for SharePoint, Office 365, SQL Server, Windows Server, Remote Desktop Services, and Citrix environments. Acceleratio Ltd. developed popular tools such as SPDocKit, SysKit, CloudKit 365, SQLDocKit, and SPDocKit Pulse. These are used by more than 2,500 public and corporate customers across the globe.