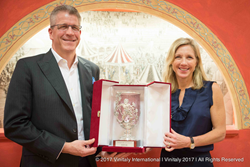 "After receiving the results from 5StarWines, we sold 900 bottles to a completely new customer from Japan within half an hour from the opening of Vinitaly 2017." speaks Valentina Marrone proudly.
(PRWEB) April 18, 2017
Italian native grapes once again shined bright at this year's 5StarWines, the evolution of Vinitaly's annual international wine selection, held March 31st to April 2nd in Verona. In the run-up to the world's largest wine event, over 2,200 wines from around the world were present, and were judged on a 100-point scale, and those that received a score of 90 points or more will be published in the new 5 Star Wines - the Book.
The selected wines represented the best of the international wine market, including 16 wines from Ningxia, China, a large boost in comparison to last year. The selection also revealed that Italian native grapes are the source of some of the country's most compelling wines. Banfi of Montalcino was honored Best winery of the year - Gran Vinitaly 2017.
Under the guidance of Vinitaly International Managing Director Stevie Kim and Vinitaly International Academy Scientific Director Ian D'Agata, the international team of judges was led by an expert panel of General Chairmen: 2013 World's Best Sommelier Paolo Basso; Bernard Burtschy, president of the French Wine Press and columnist for Le Figaro; Robert Joseph, Editor at Large for Meininger's Wine Business International; and Pedro Ballesteros Torres, a Master of Wine from Spain. Any wines that received an initial score of 90 or above were re-tasted by the General Chairmen. "This panel was specially selected for their deep knowledge of Italy's native grapes," explains Ian D'Agata. (For the complete list of all 78 judges, please see: http://www.5starwines.it/giuria/ )
Numerous wines made with Italian native grapes Cagnulari, Cannonau, Freisa, Grignolino, Moscato Bianco, Moscato Giallo, Vermentino and Vernaccia di Oristano were selected. D'Agata expresses, "I am really excited about this year's results as there is a fantastic diversity in the types of wines and grape varieties present, which is really Italy's greatest ace in its sleeve when it comes to wine. This is precisely what 5 Star Wines-The Book set out to accomplish, that is recognition for Italy's many lesser known grape varieties."
Pedro Ballesteros adds, "I had the pleasure to find a more than decent average quality with a high concentration of top quality in classic appellations: Brunello, Barolo, Franciacorta. But the most unforgettable feature that gave me the feeling of being exposed to the unexpected was the infinite Italian diversity with so many unknown varieties coming to the fore."
Barolo DOCG "Bussia" 2013 of Agricola Gian Piero Marrone, from La Morra, frazione Annunziata, run by three young sisters was selected as one of the Best Italian Wines. "We are absolutely delighted by the results because our wines have been highly recognised not just from former customers who have curiously followed the evolution of style, but also from new customers. After receiving the results from 5StarWines, we sold 900 bottles to a completely new customer from Japan within half an hour from the opening of Vinitaly 2017. This represents our continuous increase in the quality of wines, and it was a great satisfaction and success for all of the family", speaks Valentina Marrone proudly.
5 StarWines-the Book will be an unique guide also because of the special feature Wine Without Walls, solely dedicated to a selection of the world's best "natural" wines. Wines belonging to this category are ones without added sulphites, or with a total quantity of sulphites (naturally produced and added) not higher than 40mg/l. Chaired by Alice Feiring, American journalist and author of "Naked Wine", the section of the guide aims at giving recognition to the growing importance of these wines. Feiring was joined by fellow judges Pascaline Lepeltier, Master Sommelier and beverage director of Rouge Tomate in New York USA, Sebastien Milleret, Enoteca O Vins D'Anges of Lyon, France, and Italian restaurateurs Pietro Vergano, co-creator of Ristorante Consorzio in Torino and Diego Sorba from Il Tabarro in Parma.
"No other wine guide starts from the point of view that there are better ways to assess a wine than just by the color, aroma and structure." states, Alice Feiring. "We had a very interesting assortment of wines which ranged from what people might call hard core to more wines that anyone could love and appreciate. I am grateful for Vinitaly International's recognition of wines that often break the mold, and their understanding that winemakers who insist on organic agriculture and minimal intervention are an essential part of the wine conversation."
Pascaline Lepeltier raises an interesting point, "The future of viticulture will need to pay more attention to farming, to reconsider biodiversity, to observe the plant in order to create a balance between the vine and its environment - not only it will be better to fight against the problem of monoculture (like disease pressure), but it will also allow not to have to use additives in the winemaking."
Caption: Castello Banfi received the Best winery of the year - Gran Vinitaly 2017
This group of famous judges, a unique team of MWs, MSs, Michelin starred sommeliers, wine journalists, bloggers and winemakers give this guide immense credibility and standing. The Book will be a compilation of 441 wines selected for 5StarWines, in addition to selection of 17 wines for Wine without Walls. The complete list of the wines can be found on: http://www.vinitaly.com/globalassets/pdf/concorsi-enologici/5-stars/classifica-ita_definitiva.pdf. 5StarWines the Book 2017 will be published both in print and digital versions by the summer, and will be spread widely during exhibitions, B2B meetings, tastings, and Vinitaly International initiatives abroad.
About:
Veronafiere is the leading organizer of trade shows in Italy including Vinitaly (http://www.vinitaly.com), the largest wine and spirits fair in the world. During its 51th edition Vinitaly counted more than 4,270 exhibitors on a 100,000+ square meter area and 128,000 visitors from 142 different countries with more than 30,000 top international buyers (up by 8%). The next edition of the fair will take place on 15 - 18 April 2018. The premier event to Vinitaly, OperaWine (http://www.operawine.it) "Finest Italian Wines: 100 Great Producers," will unite international wine professionals on April 14th in the heart of Verona, offering them the unique opportunity to discover and taste the wines of the 100 Best Italian Producers, as selected by Wine Spectator. Since 1998 Vinitaly International travels to several countries such as Russia, China, USA and Hong Kong thanks to its strategic arm abroad, Vinitaly International. In February 2014 Vinitaly International launched an educational project, the Vinitaly International Academy (VIA) with the aim of divulging and broadcasting the excellence and diversity of Italian wine around the globe. VIA this year launched the third edition of its Certification Course and today counts 79 Italian Wine Ambassadors and 7 Italian Wine Experts.