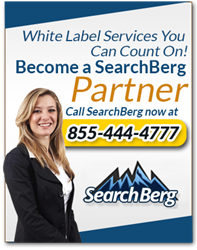 Delivering Tomorrow's Solutions, Today!
New York, NY (PRWEB) April 25, 2017
After concluding a very successful 2016 on a high note, SearchBerg is proud to unveil the latest addition to its SEO services portfolio; a comprehensive and fully customized White Label SEO Program for design and web agencies. Companies who are serious about promoting their brand, increasing client retention and most importantly, delivering results to their customers, should seriously look into this program by SearchBerg.
"White Label Internet Marketing is very different from traditional SEO," says Aaron Tylor, Senior Account Manager at SearchBerg and the driving force behind the program.
"You have to bring your A game to the table, every time. There is little to no room for error and everything from results; to rankings; to reporting; has to be spot on both from a client's perspective and the client's, client's perspective (pun intended)."
Because of the technicality and complexity involved, very few internet marketing agencies offer this service; even fewer actually get it right. However, with a solid marketing strategy and hands on expertise, the rewards are there for the taking.
Aaron Tylor explains.
"As challenging as it can be, if done right, and by that I mean, a White Label SEO program that is meticulously designed, thoughtfully strategized, carefully planned and painstakingly executed by certified experts, it can be one of the most immensely productive company-client ventures in terms of client retention, lead generation, and brand recognition."
What's included in SearchBerg's White Label SEO Program
There are certain standards to digital marketing that must be observed and maintained.
This includes extensive research and analysis when it comes to websites, businesses, specific niches and entire industries. Clients of agency partners will continue to receive quality SEO work, and hands on expertise. This work includes things like Keyword Research, detailed Website Audit, Paid Search Analysis, Weekly and Monthly Completion Reports, new Strategies and Recommendations,Web Design and Development etc. Client reporting entails vital tasks like weekly rankings, daily activities, prompt alerts and notifications regarding website and project status, keeping clients in the loop regarding current or upcoming developments in the Search arena and of course answering their queries.
The above mentioned tasks and activities are an integral part of our SEO projects. For a more detailed explanation, be sure to check out the attached video.
Client and Agency Dashboard's From SearchBerg
Apart from standard SEO solutions, what makes SearchBerg's White Label program so unique and viable for agency partners is the third dimension that they have added to their business model; delivering solutions in real-time. They have done that in the form of a truly amazing product called the Dashboard Tool, divided into two variants; the Agency Dashboard for SearchBerg partners and Client Dashboard for their clients, sporting agency partner's logo.
"Literally, it's a win-win-win," Aaron points out. "Our White Label SEO program is essentially a three way joint venture that is financially lucrative and economically productive for SearchBerg, their agency partners and their clients!"
The Agency Dashboard allows partner clients to manage, monitor and communicate with their clients regarding SEO projects under one seamless, efficient platform. They also get full rights to configure Client Dashboard for all their customers sporting their own agency logo thereby creating a better, improved brand image and perception.
The Client Dashboard is for the clients. It provides an aerial view of all vital aspects of a client's website and project. From weekly keyword rankings to daily social media performance to website on-page statistics, to Google Analytics data, the Client Dashboard keeps clients in the loop of all activities pertaining to their website and project.
"The Dashboard tool has always been our hallmark achievement ever since we unveiled it in February last year." Aaron remarks. "Including it as part of our White Label Program made sense because it offered more choices and better functionality for our partners and their customers. We wanted to be able to give everyone more value for their investment and a positive SEO experience with us."
For more information on SearchBerg's White Label SEO Program and to find out how your business can generate new leads, increase sales and improve brand image, contact SearchBerg today!
About The Company
SearchBerg is a complete digital marketing solutions provider. We offer comprehensive, result-oriented services such as Search Engine Optimization, Content Creation, Social Media Marketing, Pay-per-Click Management, Brand and Reputation Management, and Penguin Recovery. Our services are designed to increase your web authority in Google as well as increase traffic, rankings and conversions on your website.
As one of the leading SEO services providers and one of the best SEO companies for small businesses and startup, SearchBerg is regarded as the go-to choice for most companies and e-commerce businesses with more than 10,000 projects successfully completed.
For more information, visit http://www.SearchBerg.com.