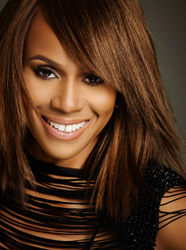 Deborah Cox is an incredible talent and a passionate humanitarian. She is a powerful and authentic voice for the empowerment of girls and women
Hollywood, FL (PRWEB) April 18, 2017
The WOMEN'S CHOICE AWARD® SHOW announced today that GRAMMY nominated recording artist and Broadway star Deborah Cox will serve as the Women's Choice Award Show Special Correspondent. Deborah will interview honorees, nominees and celebrity guests on the purple carpet as they share their wisdom about the female experience. Deborah can currently be seen in the role of Rachel Marron in the U.S. tour of the smash musical hit "The Bodyguard", which will run at The Pantages theater in Los Angeles from May 2nd- 21st, 2017.
Fans around the world are currently voting to determine winners in three categories, including the "Shero," "Spotlight," and "Voice of Women" awards. The Shero Award will be given to a passionate activist doing incredible work that benefits girls and women. The Voice of Women Award will be given to a leader who has helped shape the positive portrayal of girls and women in entertainment and media. The Spotlight Award will be given to a celebrity using her platform to shine a spotlight on issues affecting girls and women. Fans can vote by visiting http://www.womenschoiceawardshow.com. Voting ends on Sunday, April 30, 2017 at 11:59 PM EST.
The winners will be announced live at the star-studded Women's Choice Award Show hosted by EMMY award winning veteran television journalist and personality Meredith Vieira, at the legendary Avalon Hollywood ballroom on Wednesday, May 17, 2017. Oscar nominated actress, producer, director, writer and humanitarian Sharon Stone will be honored with the Icon Award for her lifetime achievement in film and passionate activism to make the world a better place.
The Women's Choice Award Show is an important opportunity to let the voices of girls and women be heard in a big way with a show dedicated to honoring and celebrating trailblazing women. The show will also serve to inspire girls to step into their power and pursue their dreams.
"Deborah Cox is an incredible talent and a passionate humanitarian. She is a powerful and authentic voice for the empowerment of girls and women. Deborah has captured the hearts of fans all over the world with her gorgeous voice and has lit up the stage as the star of some of the most renowned and successful Broadway productions. We are so excited to have the fierce Deborah Cox serve as our Special Correspondent on the purple carpet to share her remarkable story and to interview the trailblazing women we are celebrating at the show," said Delia Passi, CEO of Women's Choice Award.
The Women's Choice Award Show is proud to include the non-profit I Am That Girl as the cause partner for this very special event. I Am That Girl Founder Alexis Jones will speak at the event and girls from the global I Am That Girl community will be on hand to present awards to Women's Choice Award Show winners. Girls from local I Am That Girl chapters will enjoy an inspiring and empowering night as VIP guests at the celebration. Guests at the Women's Choice Award Show will have the opportunity to make a donation onsite to support I Am That Girl.
The Women's Choice Award® Show is proud to have the generous support of lifestyle and consumer brands including Exodo Tequila, Family Share, Gypsy Vodka, HoMedics, Kaiser Permanente, Kendra Scott, Luster Premium White, Paul Gauguin Cruises, Ricola, Santa Margherita Wines, Speedo, TrueCar, Voortman Cookies and Wise Foods.
Nominees for the Women's Choice Award® Show were announced on International Women's Day proving that the future is female. Fans can visit http://www.WOMENSCHOICEAWARDSHOW.COM and rock their vote for their favorite extraordinary women. Bios for all of the Women's Choice Award Show nominees are available on the Women's Choice Award Show website.
Below includes the complete list of nominees.
WOMEN'S CHOICE AWARD® SHOW 2017 NOMINEES:
SHERO AWARD:
Alicia Garza
Brittany Packnett
Carmen Perez
Dr. Knatokie Ford
Dr. Yvonne Cagle
Georgie Smith
Reshma Saujani
SPOTLIGHT AWARD:
Alyssa Milano
Amy Purdy
Deondra Brown
Elizabeth Falkner
Emma Watson
Keke Palmer
Maggie Q
Meryl Davis
Nura Afia
Priyanka Chopra
VOICE OF WOMEN AWARD:
Ana Navarro
Elaine Welteroth
Jennie Urman
Jennifer Pozner
Julie Taymor
Kara Holden
Maria Menounos
Tery Lopez
Media outlets can apply for credentials to cover the Women's Choice Award® Show at:
http://womenschoiceawardshow.com/press/
ABOUT THE WOMEN'S CHOICE AWARD® SHOW
The Women's Choice Award® Show is the only awards show where girls and women vote for their favorite fierce female activists, advocates and artists. The Women's Choice Award Show official website at http://www.WOMENSCHOICEAWARDSHOW.COM houses the voting platform where fans determine the winners for the annual awards show. Delia Passi is the Founder and CEO of Women's Choice Award and serves alongside Amy Malin and Scott Malin of Trueheart Events as executive producers of the Women's Choice Award® Show.
The Women's Choice Award was founded in 2010 with the mission to empower women and has since been named to the Inc. 5000 list of America's Fastest Growing Private Companies for two years in a row. Brands that are recommended by women through national surveys and review panels earn the Women's Choice Award- and for every survey participant, the Women's Choice Award donates to a charity that supports the health and wellness of women and children. Brand and healthcare facilities that have earned and showcase the award seal are displaying their commitment to empower women.
ABOUT DEBORAH COX
Deborah Cox possesses one of the most powerful and versatile contemporary voices of our time. The Grammy Award nominated, multi-platinum R & B/Pop recording artist and actress is currently blowing the roof off theaters starring in the Rachel Maron role in the new musical "The Bodyguard". She made her Broadway debut in the leading role in Elton John and Time Rice's musical "Aida", receiving rave reviews. In 2013, she yet again demonstrated her wide range through her emotional portrayal of Lucy in the revival of hit Broadway musical "Jekyll & Hyde". Last year, Deborah starred as the legendary Josephine Baker in the original musical "Josephine" at the Asolo Repertory Theatre.
Since beginning her career as a background singer for Celine Dion, Deborah has recorded six award winning and critically acclaimed albums and has written for and been recorded on numerous soundtracks. As with Whitney Houston, Deborah's first recording contract was with Rock and Roll Hall of Famer Clive Davis and that self-titled debut album went platinum, earning her an American Music Award nomination. She later collaborated with Houston to record the duet "Same Script Different Day" for Whitney's greatest hits CD.
From her second CD, One Wish, came the double platinum "Nobody's Supposed to be Here" – which held the record for the longest running #1 R & B single. After 14 weeks at the top of the charts, Deborah earned a Billboard Music Award nomination for R & B Single of the Year, an NAACP Image Award nomination, A Soul Train Award, A Lady of Soul Award and 3 Juno Awards including a Best Female Vocalist Juno nomination.
The Canadian born star has an impressive list of #1 Billboard hit records, including twelve #1 songs on Billboard's Hot Dance Club Play chart.
Deborah has been recognized for her longstanding commitment to various social issues. She is a recipient of the California State Senate Award and the New York State Senate's Civil Rights Award for her efforts in the fight for Human Rights and Equality.
ABOUT I AM THAT GIRL
I Am That Girl helps girls to transform self-doubt into self-love by providing a safe space to connect and have honest conversations about things that matter. Every day, girls are bombarded with messages that attack what she is NOT and I Am That Girl works every day to help her love who SHE IS; to see that in herself and inspire that in others. http://www.iamthatgirl.com
CHEAT TWEET: Vote now for your favorite @WomensAward nominees at http://www.womenschoiceawardshow.com.Winners announced at the star-studded show on May 17th.
Let's get social!:
Website: http://www.womenschoiceawardshow.com
Facebook: https://www.facebook.com/WomensChoiceAward
Twitter : @WomensAward
Instagram: @Womens_Choice_Award
Snapchat: WomensAward
Official hashtags: #WCAwards, #Vote4FierceWomen, #WeMakeHerstory
Interviews with our host Meredith Vieira, Special Correspondent Deborah Cox, Icon Award honoree Sharon Stone, and Women's Choice Award® Show nominees are available upon request pending their availability.
Press Contact:
Amy Malin
Trueheart Events
818-672-1268
amym(at)trueheartevents.com