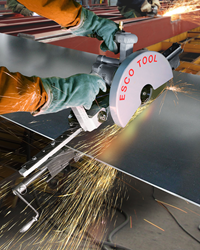 Holliston, MA (PRWEB) April 20, 2017
ESCO Tool has introduced a pneumatic saw and clamp system that eliminates torch cutting and lets users produce clean accurate cuts on thick steel plate fast with no heat affect zone (HAZ).
ESCO's APS-438 Air-Powered Saw and Quick-Clamp sets up fast using a 2"W steel track and has two wedge-style clamps that attach to steel plate up to 15'W by 3.5" thick and accepts the saw. Eliminating torch cutting and the resulting HAZ, this saw mounts rigidly onto a bracket that glides along the track on four V-grooved steel wheels to make straight, clean accurate cuts.
Ideally suited for the on-site fabrication of structures, tanks, ships, and related products, ESCO's APS-438 Air-Powered Saw and Quick-Clamp can cut steel plate and highly alloyed materials. The 3 HP air-powered saw provides a 4-3/8" cutting depth, has a cut line indicator and gauge to simplify alignment, and the steel track comes in 5' to 15' sections.
ESCO's APS-438 Air-Powered Saw and Quick-Clamp sell for $5,895.00 (list) and are available for rent in the continental USA.About ESCO Tool
For over 60 years, ESCO Tool has worked closely with end-users on the toughest tube and pipe cutting and end prep applications in the power generation and metalworking industries. Their experience has allowed them to invent and manufacture high quality, torque-free end prep tools that work efficiently and require no special operator training.
The ESCO product line features their robust line of MILLHOG® pipe milling tools and Air-Powered Saws and specialty mount systems, High-Speed Hand-Held Bevelers, and accessories. Offered for sale or rent, with 24 hour shipment or less usually available, these field-proven tools are built tough and precision machined from the finest materials to make sure that you get your job done properly, on time, and under budget.
For more information contact:
ESCO Tool
A Unit of Esco Technologies, Inc.
Matthew Brennan, Marketing Director
75 October Hill Rd.
Holliston, MA 01746
(800) 343-6926 FAX (508) 359-4145
e-mail: matt(at)escotool.com
http://www.escotool.com