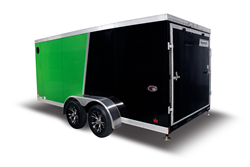 We set out to create a tougher trailer that can go anywhere and withstand the test of time
Bristol, Ind. (PRWEB) April 19, 2017
Haulmark, a leading brand of lifestyle, performance-grade cargo trailers, today unveiled its new VG-Series, an ultra-durable trailer with three times the life-expectancy of similar models. Constructed with state-of-the-art technology adapted from the automotive industry, the trailers are lighter, stronger and more corrosion resistant than ever before. The new VG-Series also features four distinct trim levels to suit every trailer owner's needs.
The Haulmark VG-Series, part of the Universal Trailer Corporation family of brands, is produced in a new $25 million facility in Bristol, Ind., and reflects more than two years of innovation, including proprietary construction material, intelligent robotic welding for square and true frames; HSLA (high-strength, low-alloy) roll formed steel, double-flanged cross members to minimize road vibrations; frames dipped in an advanced coating providing ultimate anti-corrosion protection; and automotive fastener technology for perfectly aligned trailer chassis, walls and roof. To verify its new materials, semi-automated production and sophisticated fastening methods, Haulmark implemented rigorous research, stress-testing its trailers on commercial truck test tracks, as well as using 3D modeling and computer vibration simulation to further validate the new design.
"Whatever our customers are hauling—whether it's camping gear, bikes or valued possessions for their small business—they want to make sure it's stowed in a trailer that's light-weight and extra durable. We set out to create a tougher trailer that can go anywhere and withstand the test of time," said Jeff Howes, Vice President of Marketing Universal Trailer.
Highlights of the new Haulmark VG-Series include:

Entire Frame Robotically Welded: Automated robotic welding provides micron-precision welds every time, resulting in higher quality, squarer and truer cargo trailers.
Anti-Corrosion Dip Tank: Every Trailer frame (chassis, walls and roof) is dipped in ArmorTech™, an advanced protective coating from Valspar, providing the ultimate metal treatment defense against rust and corrosion. ArmorTech chemically grafts with steel to form a protective skin that is impervious to moisture and today's harsh, anti-icing agents. If the surface coating is scratched, ArmorTech remains intact and continues to protect the coated area around the exposed metal.
Patent-Pending Frame Design: Haulmark started from scratch, leveraging modern engineering concepts to create a stronger, lighter and smarter frame. It then tested it at 100 percent cargo capacity for thousands of miles to prove its design, with the result exceeding expectations and performance of competitor's brands.
Stronger and Lighter: Trailers are made with High-Strength, Low Alloy (HSLA) Roll Formed Steel, with Grade 50 steel used on the chassis and wall attachment flange. This produces a new trailer frame that is up to 15 percent lighter yet stronger, delivering increased fuel economy and cargo capacity.
Automotive Fasteners: Trailers will be assembled with advanced fastening technology used in aerospace, rail and automotive industries for increased precision, strength and perfectly aligned trailer walls.
"HSLA steel is used all the time in the automotive industry because it has a higher strength-to-weight ratio and more natural corrosion resistance than carbon steel," said Terry Carlson, CEO of Universal Trailer. "This is just one of many innovations Haulmark adopted from the auto industry to create something entirely new and revolutionary, setting a benchmark for the industry in durability and performance."
The new VG-Series comes in four distinct Trim Levels: The 1000 Trim Level comes with all the key benefits, such as the durable Uni-Lock Frame and ArmorTech corrosion protection. Additional features in the 3000 Trim Level include a 32" side door, sidewall vents and LED dome light. The 5000 Trim Level comes equipped with even more convenience features such as standard silver aluminum wheels and continuing with the deluxe trim accents. The top-line 7000 Trim Level comes with premium features, plus additional add-ons such as Goodyear® Radial Tires, Back-Up Lights and our LED Flasher System, making it the safest trailer on the road today.
About Haulmark:
Haulmark is the leading brand of lifestyle, performance-grade cargo trailers based in Bristol, Ind. Haulmark makes cargo trailers for general purpose as well as specialized use for ATVs, motorcycles, snowmobiles, and race car or specialized motorsports. Haulmark is part of Universal Trailer Corporation, Universal Trailer Corporation, the largest North American manufacturer of leading lifestyle and utility trailer brands with seven manufacturing facilities across the U.S. Universal Trailer is headquartered in Fort Myers, Fla.; its brands include Exiss Aluminum Trailers of El Reno, Okla., Featherlite of Cresco, Iowa, and Haulmark and Wells Cargo of Bristol, Ind. For more information, visit http://www.universaltrailer.com
Media Contact
Patty Yeager
Fastlane on Behalf of Haulmark and Universal Trailer
(855) 677-5263, ext. 109
PatriciaY(at)fastlane(dot)co
Company Contact
Scott Samuels
Director of Marketing UTC Cargo Group (574) 607-3326
scott.samuels(at)utccargogroup(dot)com