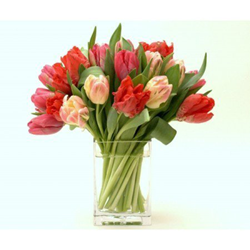 Beautiful spring flowers are everywhere for the next several weeks. These give us countless opportunities for unique floral arrangements.
New York, New York (PRWEB) April 18, 2017
New York City Master Florist Gabriela Wakeham (https://www.gabrielawakeham.com) this week introduces a new collection of seasonal spring flower arrangements. These capitalize on flowers-of-the-moment for late April and early May including tulips, hyacinths, daffodils and soon-to-come peonies, irises and lilacs. Colors span the spring spectrum from deep purples, blue and yellow to a range of pinks and clean, fresh white. The new spring bouquets feature distinctive modern single flower looks and mixed compositions. All capitalize on the bounty of spring, which is the biggest season of the year for fresh flowers. For many people who have backyard gardens, a number of these looks can be created at home.
'Anyone who is a flower lover waits each year for this incredible moment in spring,' said Gabriela Wakeham. 'Beautiful spring flowers are everywhere for the next several weeks. These give us countless opportunities for unique floral arrangements.' Many new and signature pieces featuring peonies, tulips, hyacinths and irises are available for same-day delivery in the New York City areas of Manhattan, Williamsburg, Long Island City, Dumbo, Astoria and Brooklyn Heights. Custom orders to a client's exact specifications are also offered. In addition, for groups of 10 to 12 spring flower arranging classes are offered by special request at the Gabriela Wakeham studios in midtown Manhattan.
New Spring Flower Combinations
Options to Try at Home
One of the signature spring flower looks is a combination of three colors of tulips. In the Gabriela Wakeham Studio Tri-Tone Tulip arrangement, the morning's best tulip colors are artfully combined into a sophisticated color mix for a beautiful effect. Created at home, this can be achieved be selecting three colors, either the customary brights or perhaps more subtle shades, for a quintessentially spring look. For home seasonal gardens that include daffodils, they can be elegantly combined with yellow tulips for a spring textured bouquet that is a strong single-color statement. For those who have hyacinths growing, they can be combined with anemomes in a play of shape and proportion. The hyacinth/anemone mix is a play of opposites as the lacy vertical hyacinth blooms mix with the round graphic shape of the anemones.
Two more of the most beautiful spring flowers will bloom in the next two to four weeks and are found in many backyard gardens around the United States. These are peonies and lilacs. Both have great potential to be included in distinctive flower arrangements, and peonies are among the most luxurious and sought after blooms annually. Purple lilacs elegantly combine with pink peonies for a perfect spring look. Again, a play of opposites as the intricate vertically shaped lilacs contrast with the oversized circular peonies. For those with backyard gardens including peonies, they can be cut long and arranged in taller single-flower arrangements that are among the most luxurious available at any time of year.
Fresh Spring Flowers to Send for Many Occasions Including
Birthday, Thank You, Friendship, Get Well, Sympathy
The distinctive new spring flower collection includes many options that are appropriate for a range of personal occasions. A contemporary look is the twist arrangement design. In these distinctive bouquets, stems are combined and gently twisted to create an elegant base that is then displayed in a clear glass vase. This is a perfect approach to showcase spring tulips in many shades. The fresh uplifting look is a great choice for personal occasions including birthday, friendship and get well. Other modern seasonal looks for late April/early May include fresh-cut hyacinths, often in pink, white or purple. These beauties also look especially elegant when set in a clear glass vase, their stems packed tightly and precisely.
For facilities designers and managers, spring blooms are often a desired look in terms of variety and seasonal variation. Even for modern interiors with rigorous aesthetics, they can be adapted to harmonize with the desired look. One interesting solution is to use white tulips, hyacinths, peonies, lilacs, irises or anemones. Their shape and beauty suggests the season while the pure white shade is appropriate for modern environments. White spring blooms look distinctive in strong, single-flower arrangements or skillfully mixed in plays of texture and proportion, such as peonies and lilacs. Depending on vase selection and arranging style, these also can appear more classic and traditional.
Gabriela Wakeham is New York City's Florist for Business
As a high-end local New York City florist, Gabriela Wakeham offers a range of corporate floral services. These include weekly flower delivery, event design and the best congratulations and thank you floral arrangements for business. Site visits and Proposals are offered free of charge to qualified clients. Custom pieces, delivered weekly, to lobbies, reception areas, designer stores, hotels and restaurants are a specialty and the existing client list covers organizations in many sectors. Daily deliveries of business flowers are made to key office centers including Rockefeller Center, Wall Street, the World Trade Center, Trump Tower, Columbus Circle and the United Nations.
Weekly flower deliveries are custom designed to client's specifications and feature delivery / set-up. These also include residential clients in fine homes seeking the presence of beautifully designed blossoms to enhance interior décor and quality of life. Residential weekly floral arrangements are often created with luxury flowers such as spring peonies mixed with orchids, roses, calla lilies and other premium blooms. They can be aware of the seasons and progress with a changing color palette through the year, or observe a fixed aesthetic such as all white. Individualized design consultations are offered and in collaboration with interior designers if requested.
A Local Master Florist Delivering in New York City
With the Best Spring Flower Collection for 2017
Gabriela Wakeham is a high-end local florist delivering in New York City. Founded in Tribeca in 2009, it today delivers luxury flowers in Manhattan as far north as 135th Street, as well as to Williamsburg, Long Island City, Dumbo, Astoria and Brooklyn Heights. While the current service territory has been expanded significantly, the company continues to place an emphasis on its original downtown neighborhoods. It specializes in flower delivery to Tribeca, Soho, Hudson Square, Wall Street, lower Manhattan and Battery Park City. With approximately 75 exclusive floral arrangements featured on its website, Gabriela Wakeham is a leading boutique florist in New York City.