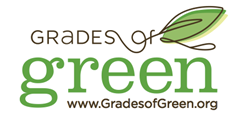 We love seeing our organization grow in such significant ways, because it reflects that schools and youth have a growing interest in learning about and improving the environment
Los Angeles, Calif. (PRWEB) April 19, 2017
Grades of Green, an award winning environmental education non-profit based in Los Angeles, California announced today a significant milestone reached with the registration of over 500 schools. One of their signature Southern California programs, its "Trash Free Lunch Challenge," also hit a programmatic milestone of diverting 200,000 bags, or four million pounds of trash, from landfills as a result of 122 schools participating in this annual challenge since its inception six years ago.
Grades of Green inspires and empowers students and school communities to care for the environment by providing turnkey programs and resources that are easily implemented at K-12 schools. Winning several national and regional awards, including the White House's Presidential Environment Youth Award in 2016, Grades of Green hosts a vast library of resources for schools to provide hands on activities for students, and has helped schools meet or exceed their environmental goals, such as conserving thousands of gallons of water and passing a state resolution to improve air quality. It is the only program of its kind, and the most popular feature is the one-on-one advisors that are assigned to each school to assist in auditing and implementing specific program elements to each school's need. Grades of Green is growing in scope and size, and experienced their highest growth spurt last year, with a 20% increase in participation.
"We love seeing our organization grow in such significant ways, because it reflects that schools and youth have a growing interest in learning about and improving the environment," said Susan Warshaw, Executive Director of Grades of Green. "We are excited about how these students are learning to make a lifelong commitment to environmental practices that initiated with our programs."
Grades of Green was started on April 22, 2010 on Earth Day, by four parents with extensive professional experience in the environmental sector, including working with the EPA. Since then, the programs have grown to impact more than 400,000 students in 41 states and 12 countries. Schools in Costa Rica, Morocco and China registered in 2017. It is free to register with Grades of Green and to participate in all programs.
For more information about Grades of Green, please visit: http://www.gradesofgreen.org.
About Grades of Green
Grades of Green is an award winning, environmental education non-profit, that inspires and empowers students and the broader school community to care for the environment. The program provides over 40+ Grades of Green Activities that students, parents, or educators can implement at their school. Each Grades of Green Activity includes step-by-step instructions and turn-key artwork, research, and photographs to make it easy for anyone to implement, with the added bonus of saving schools money, increasing test scores, and decreasing absences! Over the past seven years, Grades of Green has inspired more than 400,000 students, in more than 515 schools, across 41 states and 12 countries. http://www.gradesofgreen.org.
###