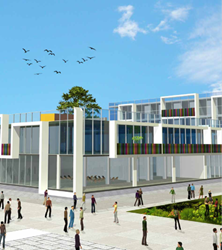 "Soroka Medical Center serves as a model of peaceful coexistence for the world," remarks Dan Abrams, chief legal affairs anchor for ABC News, "I admire the unique pioneering spirit in Soroka, and in its incredibly talented and devoted team."
New York, NY (PRWEB) April 19, 2017
American Friends of Soroka Medical Center, will host its annual gala with a dinner celebrating the fashion industry on April 26th at the Pierre Hotel in New York City. Proceeds raised during this event will support their women's health projects across the Negev including Soroka's Breast Health Center, Negev Center for Eating Disorders, and the Saban Birth and Maternity Center. This year Dan Abrams, chief legal affairs anchor for ABC News returns as Master of Ceremonies.
"Soroka Medical Center serves as a model of peaceful coexistence for the world," remarks Dan Abrams, chief legal affairs anchor for ABC News, "I admire the unique pioneering spirit in Soroka, and in its incredibly talented and devoted team."
During a special tribute Soroka will honor its American founding father, David Dubinsky. David's numerous achievements include raising funds to build the hospital's early facilities in 1959. His bold leadership, commitment to humanitarianism, and women's health in the workplace earned him the Presidential Medal of Freedom in 1969. Dubinsky will be awarded the Statesman for Israel award, which will be accepted by his granddaughter Ryna Appleton Segal. Sonia Gardner will receive the inaugural Dubinsky Humanitarian Award. Gardner is president, managing partner, and co-founder of Avenue Capital Group. She is a noted humanitarian committed to women's issues, healthcare, and social justice.
"Workers do not live by bread alone… My grandfather believed in caring for the whole person and made sure the ILGWU and AFL-CIO worked to do just that," recalls Ryna Appleton Segal, David Dubinsky's granddaughter. "He believed that good health was fundamental to building an engaged citizenship, the ILGWU was the first in our nation to establish a union health center serving as a model for the country and the world."
Shouly and Abraham Maslavi of family-owned Jovani Fashions will receive the Fashion Industry Leadership Award. Jovani Fashions is based in the heart of New York City's garment district and is world-renowned for exquisitely designed special occasion dresses. The Maslavi family will be recognized for their passionate support for Soroka Medical Center in Israel.
Opera singer David Serero will serenade guests throughout the evening. Bellucci Napoli will hold a special fashion presentation featuring their bespoke men's suiting. Also a silent auction featuring a rare Judith Leiber clutch will provide bidding guest with a plethora of items and exclusive get-a-ways to reward their charitable contributions. Tickets are available for purchase at the American Friends of Soroka Medical Center's website or by contacting Rachel Heisler, Executive Director of AFSMC by calling 914-725-9070.
American Friends of Soroka Medical Center is a New York State 501(c)3 nonprofit corporation. For more information, visit: soroka.org
The Soroka Medical Center is located in Be'er Sheva, and is one of Israel's largest and most strategic hospitals, in one of the country's most diverse areas. The sole major medical center for the entire Negev, Soroka serves over one million residents, including over 400,000 children, in an area that comprises 60% of Israel's land. They offer recognized excellence and innovation across the entire medical spectrum: prevention, research, diagnosis, education and integrated care for all medical areas including cancer, genetics, brain and trauma. Soroka is essential to meeting the medical needs of the Israel Defense Forces. Soroka is a pure symbol of peaceful coexistence providing exceptional healthcare for all, regardless of race, religion or politics. With 17,000 babies born here last year, Soroka's department of Obstetrics and Gynecology is the busiest in Israel with extraordinary staff and stellar outcomes for our patients. Their world-class team's very strong focus on research delivers state-of-the-art care. From the Saban Family Foundation Birth & Maternity Center to the unique Negev Center for Eating Disorders, Soroka makes a real difference in the lives of the women of Israel's south and their families. Soroka.org