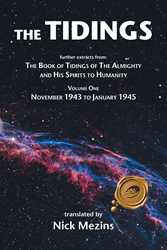 (PRWEB) April 24, 2017
Over a period of 30 years, Nick Mezins' parents received information from spiritual beings about the creation of the universe. This divine information makes up "The Tidings," the first volume of a six-part series translated by Mezins.
The book explains the concept of the creation of the universe, and the reason behind its creation. It also provides a general idea of how the universe functions and how the universe is guided by a spiritual power, known as The Almighty. Mezins articulates the role mankind has in upkeep and creation of our universe.
The first part of the book defines and explains concepts prophets such as Buddha, Christ, Indra, Mohammed, Moses, Zoroaster, and others once proclaimed. The second part tells what the prophets of the past could not tell back then, because the humanity of that time would not have understood them.
According to Mezins, he did not write this series. Rather, The Almighty conversed with his parents about the creation of the universe and he inherited this holy information later in his life. "Both my parents belonged to a small group which conversed with The Almighty's and with God's spirits," said Mezins. "They are the ones who originated the material, I only translated it."
"The Tidings" is an informative book that will define, explain and clarify existential topics like the universe, life, and humanity.
"The Tidings, Volume One: November 1943 to January 1945"
Translated by Nick Mezins
ISBN: 978-1-49073-289-3 (hardback); 978-1-49073-287-9 (paperback); 978-1-49073-288-6 (e-book)
Available at Trafford Publishing, Amazon and Barnes & Noble
About the author
Nick Mezins came to the United States from Latvia, via Germany in 1950. He then graduated from Theodore Roosevelt High School in Bronx, N.Y. He earned his BS in Electrical Engineering from the City College of New York in 1959. Mezins also earned a MS in Engineering from the University of Pittsburgh in 1973. He is a retired Professional Engineer, and is an Army Vietnam veteran. To learn more about the material discussed, please visit the translator's website.
###
Review Copies & Interview Requests:
LAVIDGE – Phoenix
Chris Pena
480-998-2600 x 519
cpena(at)lavidge(dot)com
General Inquiries:
LAVIDGE – Phoenix
Kalin Batts
480-998-2600 x 524
kbatts(at)lavidge(dot)com