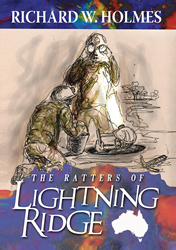 (PRWEB) April 24, 2017
The Australian Outback is the main setting in "The Ratters of Lightning Ridge," by Charlotte-based author Richard W. Holmes.
'Ridge' follows main characters Rusty and Kate as life in the Outback unfolds. Rusty, an experienced opal miner, and Kate, also an opal miner who raises sheep and cattle on the side, are living life in the Australian Outback. In 'Ridge," Holmes highlights not only the Australian Outback, but also the relationships between opal miners, ratters and the plethora of animals roaming around.
Holmes has visited the Outback in Australia, which is the interior of Australia, several times. Being absolutely captivated by the mood and overall atmosphere of the area, Holmes wanted to capture the area in a fictitious setting.
"I've never seen myself as a writer," said Holmes. "But once I was in the Outback, I thought someone needed to capture the mood. I am hoping to do just that with the book."
"For readers who would love to absorb an interesting an informative tale of the Australian outback, this is a book not to be missed," a reviewer wrote in five-star review of "The Ratters of Lightning Ridge." "Not only do we have the opportunity to mine opals through the eyes of the two main characters, but informative bits of information pertaining to the history of the area are also shared."
"The Ratters of Lightning Ridge is a well-written adventure, filled with intrigue of opal mining by private owners in Australia," said another five-star review. "Richard Holmes is highly versed in the area, the lives of the characters and their continual challenge to protect their mines from ratters."
Making readers feel like the Australian Outback is in one's backyard, "The Ratters of Lightning Ridge" is sure to be a crowd-pleaser. To learn more, please visit http://www.ridgewater.com/.
"Author Book Title"
By Richard W. Holmes
ISBN: 978-1-483-46469-5 (softcover); 978-1-483-46470-1(electronic)
Available at LULU Publishing, Amazon and Barnes & Noble
About the author
Richard W. Holmes is a retired public accountant currently living in Charlotte, N.C. In his free time, he enjoys writing both fiction and non-fiction books including several of his own life experiences.
###
Review Copies & Interview Requests:
LAVIDGE – Phoenix
Chris Peña
480-998-2600 x 519
cpena(at)lavidge(dot)com
General Inquiries:
LAVIDGE – Phoenix
Kalin Batts
480-998-2600 x 524
kbatts(at)lavidge(dot)com