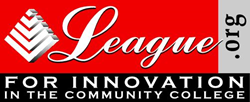 Chandler, AZ (PRWEB) April 19, 2017
The League for Innovation in the Community College Board of Directors is pleased to welcome Austin Community College District to its membership. This U.S.-based institution will be represented on the Board by President and CEO Richard Rhodes.
"Austin Community College District is addressing some of higher education's most important challenges from a data-informed perspective, with student success as its focus, and in a way that distinguishes itself as one of the most innovative community colleges in the country," said Board Chair Dr. Anne Kress. "Whether partnering with K-12 to address college readiness or redesigning developmental education to improve student success rates, ACC and President Richard Rhodes are changing the higher education narrative in Texas and across the country. It's a pleasure to welcome them to the League's Board of Directors."
Founded in 1968 by B. Lamar Johnson and a dozen U.S. community and technical college presidents, the League has proudly served community college institutions for almost five decades. The Board colleges are joined by almost 500 institutions that hold membership in the League Alliance. With this core of powerful and innovative community colleges and 100 corporate partners, the League fulfills its mission to cultivate innovation in the community college environment through conferences and institutes; online resources; research; and projects and initiatives with member colleges, corporate partners, government agencies, and private foundations.
As the League approaches its 50th year, the Board of Directors made the decision to expand in an effort to include additional outstanding community colleges. CEOs from the most influential, resourceful, and dynamic community colleges and districts in the world currently comprise the League's Board. The League's President and CEO Rufus Glasper welcomes Austin Community College and President Richard Rhodes to the League Board, stating, "ACC models the tenets of leadership and governance needed in the 21st century while fostering a culture of engagement which leads to transformational, scalable, and sustainable systems. We look forward to courageous conversations seeded by innovation."
According to the district website, since joining Austin Community College District as the President and CEO in 2011, Richard Rhodes has worked to improve pathways into higher education, strengthen awareness of the community college mission, and give students the tools to accomplish their educational, professional, and personal goals.
"The League's mission mirrors ACC's own commitment to promoting individual success and strong communities through educational excellence and innovation," said Dr. Rhodes. "I'm honored and delighted at the opportunity to work with this team of thought leaders to develop practices that will impact students here in Texas and nationwide."
About the League for Innovation in the Community College
The League for Innovation in the Community College (League) is an international nonprofit organization with a mission to cultivate innovation in the community college environment. The League hosts conferences and institutes, develops print and digital resources, and leads projects and initiatives with almost 500 member colleges, 100 corporate partners, and a host of other government and nonprofit agencies in a continuing effort to advance the community college field and make a positive difference for students and communities. Information about the League and its activities is available at http://www.league.org.