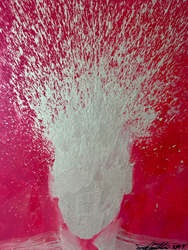 I know my life isn't perfect, but I hope the better parts of me are what inspires and not the worst
New York, NY (PRWEB) April 18, 2017
On Sunday April 23rd 2017, Red Splat Productions and Gallery X present "Richard Hambleton Studio" a pop up exhibition at Shop Studios, New York City.
The exhibit is a peek into the most recent works of 80s iconic public artist Richard Hambleton often known as the 'Godfather of Street Art'. This "one night only" pop up exhibition will feature the work of Hambleton from his 2016-2017 collection, including an exclusive look at several pieces never seen before.
Richard is the subject of a feature documentary directed by Oren Jacoby. Shadowman is set to debut this week at the Tribeca Film Festival where Mr Hambleton's "Just Say Stop" installation is to be displayed at the Festival's Hub. In the 80s, Richard Hambleton made his name as a key figure in the East Village art scene alongside the likes of Jean Michel Basquiat and Keith Haring. He was doing street art, which influenced many later notables in the public art movement, including Banksy.
The artist recently told the New York Post, "I know my life isn't perfect, but I hope the better parts of me are what inspires and not the worst."
"Richard Hambleton Studio" will be showing at Shop Studios, 528 West 39th Street, 4th Floor, New York. Sunday April 23rd 2017 from 6pm to 9pm. Free to the public.
More information on this event check out…
Instagram
@RichardHambletonStudio