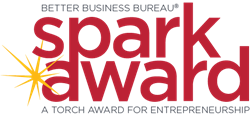 "The 2017 Spark Awards recipients are a shining example of the impact that character, culture and community has not only within the walls of an organization, but throughout the community."
Columbus, OH. (PRWEB) April 20, 2017
Better Business Bureau (BBB) and BBB's Center for Character Ethics, in partnership with Startup Storytellers, honored the 2017 Spark Awards class and awarded three organizations with the second annual Spark Awards on Wednesday, April 19, 2017.
The recipient companies were selected by an independent panel of judges after reviewing their entries based on the award criteria, and in coordination with the Torch Awards for Ethics TRUST! Principles. The recipients of the 2017 Spark Awards are: Bottoms Up Coffee, Spotted Cow Coffeehouse, and Traxler Printing. The recipients were recognized during the Startup Storytellers event at the Columbus Museum of Art.
The Spark Awards is a component of BBB's Center for Character Ethics Torch Awards for Ethics program. The award recognizes millennial entrepreneurial organizations whose leaders demonstrate a high level of character, generating a culture that is authentic about its mission, and connects with community.
"The 2017 Spark Awards class is an outstanding group of organizations, and the three recipient companies are a shining example of the impact that character, culture and community has not only within the walls of an organization, but throughout the community they serve," said Kip Morse, President & CEO of BBB serving Central Ohio.
"Now in its second year, The Spark Awards have become a key recognition platform for entrepreneurs under the age of 35. BBB has made a smart move to connect and court this elusive audience and it's paying off as more entrepreneurs learn the value of building trust into all aspects of their company," said David All, creator and producer of Startup Storytellers.
For more information on the Spark Awards and the 2017 recipients, please visit bbbsparkaward.com.
About BBB
For more than 100 years, Better Business Bureau has been helping people find businesses, brands and charities they can trust. In 2016, people turned to BBB more than 167 million times for BBB Business Profiles on more than 5.2 million businesses and Charity Reports on 11,000 charities, all available for free at bbb.org. There are local, independent BBBs across the United States, Canada and Mexico, including BBB Serving Central Ohio, which was founded in 1921 and serves 21 counties in Central Ohio.
About BBB Center for Character Ethics
BBB's Center for Character Ethics is a business-supported, free-enterprise advancing non-profit organization focused on serving business managers & classroom educators with leadership character and organizational ethics strengthening resources. Our mission is to provide character ethics assessment, training and recognition to for-profit and non-profit leaders and to provide k-16 educator-focused character strengthening programs. As a result, we intend to help both producers and consumers flourish in central Ohio.
About Startup Storytellers
Startup Storytellers is created by and for Columbus and similar to TED, hopes to be a world-class stage for entrepreneurs to share their authentic story. The gathering brings the local entrepreneurial community together through vulnerable, courageous and inspiring stories and a best-in-class experience.