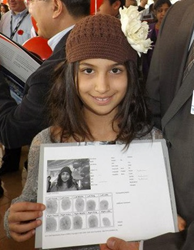 Recognizing the importance of child safety in our community, we are proud to bring this event back for the second time. - John Klagholz, Owner
Monroe, LA (PRWEB) April 20, 2017
Over 2,000 children are reported missing every day in the U.S. To help families in the greater Monroe region, Interstate Dodge Chrysler Jeep Ram Fiat is hosting their second annual "Operation Kidsafe Louisiana Regional Child Safety Days" event May 13th, 2017. At no charge to the community, the event will be held at 701 Constitution Drive in West Monroe. Event time is 10:00AM - 4:00PM on Saturday, May 13th.
During the complimentary Operation Kidsafe event, associates record your child's picture and fingerprints using a digital video capture device, digital ink-less fingerprint capture device and specialized software…the same devices used by government agencies such as the Secret Service and FBI. The captured data is assembled and a quality 8 1/2 x 11" printout is given to the parent. The parent can use the printout they receive to provide to law enforcement anywhere in the world to instantly aid in an investigation.
Because personal information and privacy are a priority, there is no data basing and parents take home the only record of the visit (a Bio Document). Safety tips to start a family safety action plan are also provided.
Families with children 1 year and older and those with special needs adult children are encouraged to take advantage of this fun, safety program.
For additional information about the event, contact Jason Coleman at jason.coleman(at)interstatedodge(dot)net or call 318-327-7427. Or visit our website at http://www.interstatedodge.net/