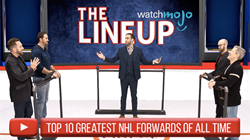 The Lineup takes the core element of our YouTube channel and community- ranking pop culture Top 10 lists- and combines it with hilarious sports banter and trivia.
Montreal, Canada (PRWEB) April 20, 2017
WatchMojo, the renowned YouTube channel boasting 15 million subscribers, is proud to announce WatchMojo Studios' inaugural production: The Lineup, a sports panel web series with a game show twist.
Ashkan Karbasfrooshan, WatchMojo founder, CEO, and Editor-in-Chief: "The Lineup is our logical step into original programming and longer forms of premium content popular with digital media heavyweights such as Netflix and Amazon. This series takes the core element of our YouTube channel and community—ranking pop culture Top 10 lists—and combines it with hilarious sports banter and trivia. We are Canadian, so this hockey-centric show makes sense as our first offering, but we're also currently developing this format for other sports and categories, such as music."
This 20-episode series is hosted by quick-witted, seasoned anchor Adam Reid, and each 25-minute episode pits two teams of personalities against each other in an epic battle for hockey trivia supremacy. Who's the toughest enforcer of all-time? What are the best player nicknames ever? Broadcasters, sports-loving comedians, and former NHLers will show off their breadth of puck knowledge.
Mathieu Dandenault, former Montreal Canadiens defenseman and sportscaster: "Appearing on The Lineup was the greatest moment of my career. Well, except for those three Stanley Cups I won. WatchMojo's got a dynasty on its hands."
Andy Nulman, Just For Laughs co-founder and CEO of Play the Future: "The Lineup was a blast. But what impressed me most was the efficiency and ingenuity of the production team. As someone who has produced hundreds of TV shows, seeing them in action was a real treat."
ABOUT WATCHMOJO
WatchMojo informs and entertains through video. With over 8 billion all-time video views and 15 million subscribers, WatchMojo is the most successful media brand built on YouTube, more popular than the channels of VICE, VOX Media, WWE, Buzzfeed, The Tonight Show Starring Jimmy Fallon or Jimmy Kimmel Live. WatchMojo is represented by The Gersh Agency in LA.
ABOUT WATCHMOJO STUDIOS
WMStudios is a newly formed division of WatchMojo that develops and produces scripted and unscripted feature films, documentaries, TV and web series, game shows, animation and more.
Website: watchmojo.com
Facebook:@watchmojo
Instagram:@watchmojo
Twitter: @WatchMojo
Hashtag: #wmthelineup