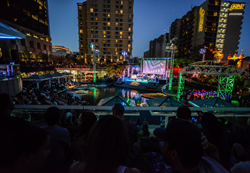 "a grand gift to the public... democracy in musical action" by the Los Angeles Times
LOS ANGELES, CALIFORNIA (PRWEB) April 18, 2017
Long known for its inclusive and cultural events, Grand Performances announces a vibrant slate of showcases that will ignite the bustling downtown LA area this summer with free entertainment. From World Music to Opera to an entire Family Series and Latin Grammy Award Winners, Grand Performances is giving Angelenos a reason to skip the weekend getaways and enjoy a roster filled with music, theatre, spoken word and film.
"In a world filled with uncertainty it's now more important than ever to have a safe haven, a place of refuge to make one feel uplifted. Grand Performances aims to be that place in Los Angeles at one of the most magical venues across the city," asserted Nurit Smith, Deputy Director of Grand Performances.
Offering a sneak peek at its eclectic line-up for the 2017 summer season, Grand Performances will open up its series on Friday, June 2 with a beautifully illuminated Earth Harp Installation. The Earth Harp will be suspended from a 52-story skyscraper onto the concert stage, promising to be a dynamic multi-dimensional concert experience-unlike any performance you have ever seen or heard. The opening act will also have a second performance on Saturday, June 3 with other June performances throughout the month that take you on a trip throughout Latin America with L.A. x GDL: Gaby Moreno + Caloncho (Sat June 7)-a rrhythmic night of cultural and musical exchanges between talented performers from Los Angeles and Guadalajara, Mexico. Homegrown talent from Los Angeles will be on display when Miguel Atwood-Ferguson performs an homage to J Dilla's influential "Suite for Ma Dukes," as well as original material on Saturday, June 24.
 
Grand Performances' July schedule begins with the continuation of programs addressing important social and racial issues with HIP HOP: FIRST PEOPLES, NEW VOICES (Sat July 1). This series, that includes other programs throughout the summer, lends a voice to artists from various North American Indigenous communities who use contemporary music, dance, and theater to engage audiences.
In an ever tension filled global climate, Rahim AlHaj [Iraq] + Asher Shasho Levy [An Angeleno with roots from Syria] (Sat July 8) feature works for a string quintet composed by AlHaj that expresses the love and pain communicated through letters from war-torn Iraq and is paired with traditional Syrian music from oudist, vocalist, and multi-instrumentalist Levy.
 
L'Orchestre Afrisa International [Congo] with Ricardo Lemvo [Congo] (Sat July 15)
This Congolese rumba from Africa's most enduring and prolific bands is paired with a blend of Afro-Cuban rhythms and pan-African styles from Los-Angeles based Lemvo.
Other July performances include Sidestepper [Colombia] + Buyepongo (Fri July 21). The pioneers of Colombia's electro-cumbia movement highlight their acoustic roots for your dancing pleasures with L.A.-based Buyepongo opening the night, a night filled with guaranteed excitement and fun.
August Performances include ones that are tailor made for the entire family in English, Spanish and even Spanglish versions of Peter & The Wolf. On Sunday, August 6, Peter & The Wolf will be presented in a big funky jazz band narrated by Black Shakespeare, as well as a version in Spanish on Sunday, August 13 with Lucky Diaz and The Family Jam Band combining Cali-Pop with an L.A. twist, emphasizing girl power.
Local (as well as international) talent will be on full display this season with multiple performers calling L.A. home.
Grand Performances 2017 continues with many other acts through September 2017, culminating with its annual gala on September 23rd, honoring retiring Executive Director, Michael Alexander. For a complete schedule of the 13 plus week Grand Performances 2017 season, please visit: http://www.grandperformances.org .
MORE ON GRAND PERFORMANCES: Celebrating its 31st year, Grand Performances' mission is to inspire community, celebrate diversity, and unite Los Angeles through free access to global performing arts. Hailed as the "Best Free Outdoor Summer Concert Series" by Los Angeles Magazine and called "a grand gift to the public... democracy in musical action" by the Los Angeles Times, Grand Performances presents high-quality music, dance, theater, and more during the summer at the breathtaking California Plaza in the heart of Downtown as well as at other outdoor venues throughout the year including the Los Angeles State Historic Park and LAX.
Follow @GrandPerformances on Facebook, @GrandPerfs on Twitter and Instagram and our Youtube Channel at youtube.com/grandperformances.
For artist interviews and press information contact: Mike Mena at 310-913-0625 or mike(at)ileanainternational(dot)com
###