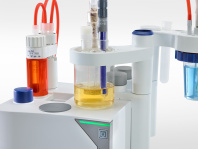 METTLER TOLEDO offers the highest precision measurement tools, plus many new innovative techniques to speed up and facilitate research work.
Columbus, OH (PRWEB) April 19, 2017
The New York Society of Cosmetic Chemists (NYSCC) will hold its 38th Annual Supplier's Day on May 2-3, 2017 in a new location: the Jacob K. Javits Convention Center in New York City. All under one roof and occupying a contiguous space, the 2017 NYSCC Suppliers' Day will provide the thousands of cosmetic and personal care manufacturers based in the tri-state area, and growing national and international contingencies, an accessible, convenient, and efficient trade show and conference venue. METTLER TOLEDO will showcase state of the art solutions for research and development, quality assurance and quality control, and analytical labs at Booth #1159.
The diverse product portfolio of METTLER TOLEDO enables scientists to push the boundaries of possibility for great new discoveries in research and development, and reliable results efficiently for quality control and analytical labs in the cosmetics industry. The featured products highlight measurements from the Laboratory portfolio, from moisture analysis, precision weighing, pH, titration, density, refractive index, and dropping point, to UV/VIS.
METTLER TOLEDO offers the highest precision measurement tools, plus many new innovative techniques to speed up and facilitate research work. The solutions presented include essential lab tools for modern scientists requiring precision weighing, efficient density and refractive index multi-parameter measurement, and reliable and reproducible pH determination. These solutions provide optimum results, with methods that can be adapted to each customer's requirements, making operation easier, more efficient, and fully compliant with SOPs and regulations.
Suppliers' Day is NYSCC's flagship event and attracts nearly 8,000 attendees working in R&D and product development for the biggest brand manufacturers in beauty and personal care. METTLER TOLEDO will be attending as an exhibitor, along with leading ingredient and raw materials suppliers,testing and quality control labs, machinery, packaging companies, and professional service providers.
Registration and Information
This tradeshow will be held on May 2-3, 2017 at the Jacob K. Javits Convention Center. Learn more about our attendance at NYSCC 2017 Suppliers' Day.
About METTLER TOLEDO
METTLER TOLEDO is a leading global manufacturer of precision instruments. The Company is the world's largest manufacturer and marketer of weighing instruments for use in laboratory, industrial and food retailing applications. The Company also holds top-three market positions in several related analytical instruments markets and is a leading provider of automated chemistry systems used in drug and chemical compound discovery and development. Additional information about METTLER TOLEDO can be found at http://www.mt.com/lab.