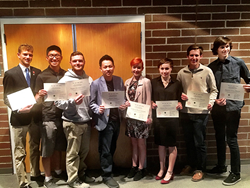 "This group of students is truly remarkable -- they have proven themselves to be serious and accomplished intellectuals across many disciplines." Harmony Button, Waterford Academic Dean
(PRWEB) April 19, 2017
The Waterford School is pleased to announce the 2017 student members of the Cum Laude Society. The Waterford School became a charter member of the Cum Laude Society early in 2012, and is currently the only Cum Laude member school in the State of Utah.
The inductees were chosen by a selection committee consisting of four faculty members, the Head of School, Assistant Head of School and the Academic Dean. The students who were selected demonstrated exceptional academic performance across all academic subject areas during their time in the Upper School.
"Cum Laude is the highest academic honor we bestow on our students. This group of students is truly remarkable -- they have proven themselves to be serious and accomplished intellectuals across many disciplines," said Waterford Academic Dean Harmony Button.
The 2017 Cum Laude student inductees:
Lucas Briggs
Georgie Chandler
Talbot Child
Randy Chou
Sophie Gauthier
Randy Quarles
David Shen
Craig Wilcox
Founded in 1906, the Cum Laude Society is dedicated to honoring scholastic achievement in secondary schools. The founders of the society modeled Cum Laude after Phi Beta Kappa and in the years since its founding, Cum Laude has grown to 382 chapters, approximately two dozen of which are located in public schools and the rest in private or independent schools. Membership is predominantly in the United States, but chapters also are located in Canada, England, France, Spain, Puerto Rico and the Philippines.
The Waterford School is a private, college-preparatory school located in Sandy, Utah, for students in preschool through grade 12. For more information visit http://www.waterfordschool.org
For more information about the Cum Laude Society visit http://www.cumlaudesociety.org.