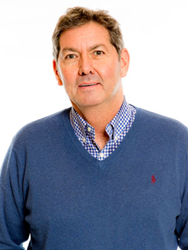 "By partnering with Dr. Tom Larkin we will fulfill our vision of generating a positive impact within dentistry by offering an innovative solution to increase patient awareness and improve overall health," said Dr. Bruce Baird
Anacortes, Washington (PRWEB) April 19, 2017
The importance of teaching oral systemic wellness in dentistry has prompted Productive Dentist Academy to create a new position, hiring author and renowned dental expert Dr. Tom Larkin to fill the new post as clinical director of dental excellence.
"Productive Dental Academy is a dream opportunity for me," said Dr. Larkin. "It is bringing all of my life's work to a focal point. I have met everyone in the organization and the energy is palpable. We are about changing dentistry for the better and looking to impact both doctors and patients lives on a large scale."
As a leading dental expert, two-time author, lecturer, dentist, and former professor, Larkin said he will serve as PDA's new clinical director of dental excellence, a newly formed position that will place a heavy emphasis on how oral health affects patients' overall health. He plans to incorporate his knowledge and teachings into the academy's existing offerings and consultations.
"Joining the Productive Dental Academy is an ideal fit for the two things that I am professionally the most passionate about," Larkin said. "The emerging field of oral wellness, and supporting the independent practice of dentistry by coaching young dentists on how to become entrepreneurs."
The founders of Productive Dentist Academy say they are equally excited to see Dr. Larkin added to their team.
"By partnering with Dr. Tom Larkin we will fulfill our vision of generating a positive impact within dentistry by offering an innovative solution to increase patient awareness and improve overall health," said Dr. Bruce Baird, president and co-founder of Productive Dentist Academy.
His co-founder and CEO Vicki McManus, RDH adds: "We chose Dr. Tom Larkin because he fits seamlessly with our philosophy of educating and coaching dentists on ways to take better care of their patients and grow their practices. He brings family programs and expertise that support a prevention strategy focused on helping patients improve their oral systemic health to prevent heart attacks, strokes, and diabetes, and he is dedicated to oral systemic wellness education and mentoring new dentists."
About Productive Dentist Academy: http://www.productivedentist.com
Named one of America's fastest-growing private companies by Inc. Magazine in 2012, 2013 and 2014, Productive Dentist Academy got its start in 2004 and has since gone on to provide dental marketing, business development coaching, and production-enhancing continued education for dentists and teams nationwide. It is based in Washington State and consists of a team of consultants in the areas of business development, hygiene, public relations, dental marketing, and other major fields of dentistry. Thousands of practices have benefited from the resources, consultants, services and courses of the Academy. Productive Dentist Academy is owned by Dr. Bruce B. Baird (Founder and President) and Vicki McManus (Co-Founder and CEO).
About Tom Larkin:
Dr. Larkin is a native of Omaha, Neb., and a graduate of Creighton University School of Dentistry. He has built several practices in his 17 years of private practice, and these practices have consistently been in the top 5 percent of profitability percentages nationwide. He has taught at the Creighton School of dentistry and authored a practice management handbook. He has assisted in developing specialized financial and management services for dental clientele of one of the leading healthcare centered accounting firms in the Midwest. He developed and eventually sold one of the first dental e-commerce Web sites on the Internet, Dentalauction.com. At the same time he completed the first Web development and e-commerce curriculum offered at the University of Nebraska. Since that time he has done practice management and Internet marketing consulting. Most recently he worked as an assistant professor at the University of Kentucky College of Dentistry from 2009 to 2013. For two years, he was co-course director of the practice management class and developed the curriculum entitled "The Business of Dentistry, A Mini MBA." In 2017, he became clinical director for "Oral Systemic Practice" at Productive Dentist Academy and continues to advocate for the independent practice of dentistry. His hobbies include thoroughbred racing, home improvements, and fishing.
###