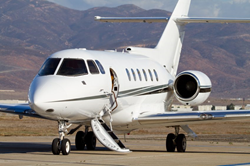 More airlines are seeing the value in providing their flight crew with other options, such as chartering a plane for them.
NEW YORK, NY (PRWEB) April 19, 2017
Luxury Aircraft Solutions, Inc. has announced that they will continue to provide last-minute plane charters for flight crew when commercial flights are overbooked, which can allow all paying passengers to continue with their original travel plans uninterrupted.
While the charter plane company primarily provides private jet charters for independent business and leisure travelers, they also frequently work with major commercial airlines when it comes to getting their flight crew to where they need to be—on time, and without disrupting the travel plans of their paying customers.
"Overbooking of commercial flights happens quite frequently, actually, and sometimes this means that flight crew are unable to get to a specific destination when they need to," said Daniel Hirschhorn, Managing Director of Luxury Aircraft Solutions. "In this situation, passengers may be offered to give up their seats in exchange for free travel in the future, or some other form of compensation. But more and more airlines are seeing the value in providing their flight crew with other options, such as chartering a plane for them. That's when they turn to us. It can cost the same—or less—than to compensate passengers, nobody's travel plans are ruined, and they avoid bad press. Everybody wins."
It may be surprising that a passenger might be turned away or bumped off a flight due to overbooking. After all, only a certain number of seats are available on an airplane, and thus, only a certain number of seats are sold. Although this may appear to be how commercial airlines operate, it is actually not the case, and the majority of commercial flights are oversold intentionally. To determine how much a particular flight should be oversold, airlines will use a formula called the No Show Rate, which calculates past data as a way of predicting how may confirmed passengers won't show up for a booked flight.
However, the No Show Rate is merely a prediction, and many times, not an accurate one. When the estimated number of no-show passengers turns out to be incorrect, the plane can be overbooked. As a result, some passengers may be denied boarding, or may be asked to deplane prior to the flight taking off. For some travelers, this might be a minor inconvenience, and they may gladly accept a later flight if the compensation is fair. For others, they may not have a choice, and it could ruin their travel plans completely. Getting bumped off a flight could cause them to miss a connecting flight or a very important event, and it can be impossible to get that time back.
Luxury Aircraft Solutions is hoping to shed light on the importance of providing flight crew with other options after a recent United Airlines incident made headlines. During the boarding process of overbooked Flight 3411 from Chicago to Louisville on April 9th, 2017, passengers were offered to voluntarily give up their seats in order to make room for flight crew. When nobody willingly volunteered, 69-year-old Dr. David Dao was chosen at random. Dao, failing to comply because he had to return to work the next day, was then forcefully removed. He suffered a number of injuries, including a fractured nose, two lost front teeth, and a concussion.
The outcome of the incident has created quite a buzz across the media, as several photos and video clips show Dao's brutal mistreatment. Although the airline has attempted to resolve the incident by making changes to their overbooking policies and offering refunds to all passengers of Flight 3411, it has resulted in a significant amount of fallout for the airline. By taking advantage of services offered by private jet charter flight brokers, major airlines in the future could potentially avoid this type of aftermath.
Luxury Aircraft Solutions is a private jet charter company that has been providing private flights since 2011. They are based in Ronkonkoma, New York, but offer private aircraft solutions worldwide. Their fleet includes a wide range of aircraft for clients to choose from, varying from inexpensive small planes to private jumbo jets. They serve a large group of clientele, including business and leisure travelers, public figures, and celebrities.
###
To learn more about Luxury Aircraft Solutions, please contact Daniel Hirschhorn at 1(631) 676-7488 or send an email to Daniel(at)Luxury.AERO. Visit Luxury Aircraft Solutions on the web at http://www.luxuryaircraftsolutions.com.