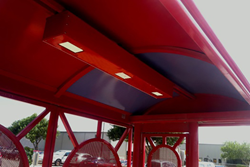 We're pleased to offer government and businesses a heavy-duty LED lighting fixture designed to discourage vandals.
Georgetown, Texas (PRWEB) April 19, 2017
ActiveLED, Inc., a U.S. based innovator and manufacturer of performance LED lighting luminaires, announced today that it has formally introduced the VR Vandal Resistant LED Lighting Series. This new line of LED fxtures is designed to resist the harshest abuses while providing clear and concise illumination for a higher level of pedestrian safety in an affordable, maintenance free lighting solution. The tamper-proof hardware is designed to withstand extreme physical assault and environmental abuse. READ BROCHURE ONLINE
It is estimated that vandalism in the United States costs tax payers and business owners over one billion dollars a year. "We're pleased to offer government and businesses a heavy-duty LED lighting fixture designed to discourage vandals," says Klaus Bollmann, CEO of ActiveLED. "Studies have shown that good lighting helps prevent vandalism and graffiti in public spaces. Our new series of vandal resistant LED lighting is designed to ensure that the lighting isn't the first thing to be destroyed."
The VR Series lighting fixtures are manufactured in the United States from 12 gauge, cold rolled steel and feature flame retardant and high impact resistant lenses. They also feature LUM-INTENSE, a new LED lighting luminaire technology that combines recent advancements in LED Modules, Drivers and Optics to punch an intense amount of light out of smaller LED fixtures. Designed to give significantly more Lumens per Watt, this technology delivers more Foot-candles at Task Level while eliminating most glare and light pollution often associated with many other styles of LED fixtures.
The most frequent targets of vandalism are those located in public spaces, or those on private properties that are open to public view. The VR Vandal Resistant LED Lighting Series is ideal for use in: public parks, public restrooms, rest stops, transit stations, stairways, and pedestrian tunnels.
The new VR Series Vandal Resistant LED Lighting Fixtures are available now for purchase. Learn more HERE or online at ActiveLED.com. You can also contact us directly at 888-288-9080.
About ActiveLED
ActiveLED, Inc. is a subsidiary of Ringdale Industries and designs, manufactures and assembles high performance LED lighting luminaires in America. ActiveLED is based in the United States with offices in the United Kingdom, France, Japan, and Singapore.