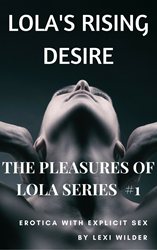 Lexi Wilder, new erotica short story writer, launches her first books on Amazon this week.
Tampa, FL (PRWEB) April 19, 2017
Lexi Wilder's first book, "Lola's Rising Desire" is available today on Amazon Kindle for free. It includes a bonus story.
It is the first in a series "The Pleasures of Lola". The second book, "Lola's Surging Desire" is also now available, and the third book will be available at the end of April, entitled "Lola's Soaring Desire."
Wilder also writes in the paranormal erotica niche, with special promos launching next week.
Join Wilder's discrete book list to get books first and free, and receive special promos.
The Lola series follows Lola and her man Jake in the journey of experimentation and awakening.
The Exquisite Demon series is in the paranormal erotica niche with the first book entitled "The Taboo Demon Summoning."
Club Lust is the third series, which follows Cara and her experiences in the secret billionaire club catering to specialized tastes.