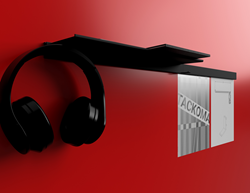 Work is messy and with Tackoma channel systems, creators can channel their work.
Tacoma, Washington (PRWEB) April 21, 2017
https://www.kickstarter.com/projects/526348872/tackoma
Today, Tackoma 18, 36, and 54 Bundles all launch on the crowd funding site Kickstarter. Starting at just $18.00 for the early bird special. Tackoma is the ultimate tool to optimize the Third Plane (walls) to support tactile goals.
Designed and developed by Co-Founders Dustin Osterhaus & Travis Dodge, who believe, "work is messy and with Tackoma Pro Channel Systems, creators can channel their work." Created with the belief that to quickly bring your product/idea/invention to life, in all the varied phases and stages of development, you need a supportive, adaptable, simple and aesthetically pleasing workspace.
Dustin Osterhaus said, "Tackoma probably isn't going to list in Time magazines Top 25 Inventions of the year for 2017; but it could definitely be used by whoever invents the top inventions for 2018!" The company plans to ship backers mid May in both the white and black color options for the available Tackoma Channel Kits.
The Kits come in three sizes: 18 inches, 36 inches, and 54 inches, as well as, sets of two kits. Each kit includes:

Hooks
Shelves
Full Length Cover
Paper Holding Channel
Co-Founder Travis Dodge said, "Kickstarter is the ideal platform to launch Tackoma; this is a new product, a new company and a newer way to bring it to the world. By supporting Tackoma on Kickstarter, people can be a part of the innovation process and directly affect the outcome of this launch."
About Third Plane:
Founded in Early 2017 by engineers and friends, Travis & Dustin. Both had thought of the Tackoma invention as a necessity while developing other products and decided to share it. Tackoma was designed to optimize, organize and assist the generative process, by organizing the mess of creative work. Designed to keep paper aligned, display necessary tools and just enough hooks to hang what is truly essential - they believe Tackoma is going to assist the makers, writers, crafters, teachers, developers and engineers to transform the space around them so they can quickly get into the zone of Deep Work and do what they do.
For more information, please reach out to Travis & Dustin at Create(at)tackoma.com