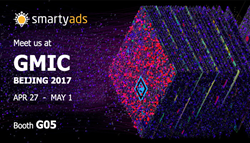 "Mobile is truly the future of marketing because smartphones are where people are"
Beijing, China (PRWEB) April 20, 2017
With events in Tokyo, San Francisco, Seoul, Tel-Aviv, Bangalore, Jakarta, Taipei, Sao Paulo and Beijing, GMIC is the world's largest mobile gathering, attracting attendees from around the world who are passionate about cutting-edge technology, innovative solutions and high-tech. More than 35,000 attendees; 700 speakers; and 500 exhibitors will gather to discuss enterprise platforms, cyber security, cloud service and big data, smart devices, mobile education and marketing, AI, gaming, entertainment, and smart cars.
During the five-day tech and networking event, SmartyAds will connect with industry-leading internet and mobile companies, independent entrepreneurs, and investors to expand its reach into Chinese and Asian markets and gain greater exposure to the global markets. The company is looking forward to meeting existing partners and exploring collaboration opportunities with new associates.
"Mobile is truly the future of marketing because smartphones are where people are," says Ivan Guzenko, CEO of SmartyAds. "Asia is experiencing a mobile phone craze now. There are more 731 million mobile internet users in China alone. There are so many opportunities for businesses here, and GMIC is a great chance to discuss mobile ad monetization solutions with publishers and app developers. We are excited to join this melting pot and ready to get most of it."
Since the birth of the company in 2013, SmartyAds has been driving innovation in the world of programmatic, helping thousands of digital publishers and media buyers to achieve their goals. At GMIC, SmartyAds will consult on the most successful monetizing solutions for businesses of any size and advertising campaigns of any budget level.
SmartyAds will occupy Booth G05 at the GMIC Exhibition Hall. For business appointments and personal meetings, please contact karen(at)smartyads(dot)com