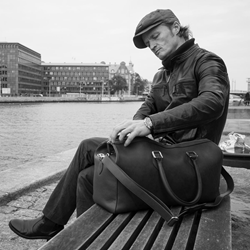 We're hoping to change the way people shop by promoting a culture of buying fewer, but better, lasting goods.
New York, New York (PRWEB) April 20, 2017
In an effort to promote a culture of buying fewer, but better, lasting goods, Waremakers has announced the launch its new online marketplace. Designed for the curious shopper who's frustrated with uniform mass-produced goods, the site features more than 1,500 curated men's, women's and home goods from 40 independent producers throughout Europe, as well as practical guides and feature stories. Visit Waremakers.com for more information or find high resolution photography here.
"We're making it easy for shoppers to invest in quality items that will last," says Mary Tungay, co-founder and lead curator. "Our team of curators are combing through Europe to find the most beautiful and durable items from the best independent producers. Our collection continues to grow each day."
The site currently features items like vegetable-tanned leather bags from Ireland, linen flat caps from Sicily and baby alpaca throws from London, each selected for uncompromising durability and purposeful design. Each week, a new collection of products is added, along with an in-depth article about its independent producer and manufacturing process. By the year's end, Waremakers will launch into the audio accessories and footwear categories.
Recent successes of online marketplaces such as Etsy and Amazon Handmade illustrate that shoppers are driven less by brand name and more by the item itself. However, unlike other platforms, Waremakers seeks out established producers, tells their story in detail, and meticulously selects every product. This curated approach simplifies the shopping experience, introduces shoppers to makers and ensures a consistent and uncompromising level of quality and design not found anywhere else.
"Other sites offer items with varying levels of quality from crafters and amateur hobbyists," says Anders Ojgaard, co-founder of Waremakers. "Because we curate every product from an established producer, shoppers can be assured that anything purchased here is beautifully designed and made to last."
To be considered for Waremakers, producers must adhere to rigorous standards in their manufacturing process, materials and design. Items are selected for simplicity in design and to withstand everyday use. Without conforming to trends or added embellishments, most offer a classic and clean look to accompany the premium quality.
With plans for continuous growth, Waremakers hopes to promote a culture of buying fewer, better, lasting goods.