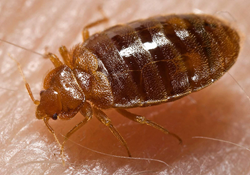 The increase in bed bug infestations are a growing health concern. Modern non-visual detection methods must be developed to assist property owners in discovering efficiently if their homes or businesses are affected, said Dr. Bruce Mitchell, CEO of airmid
Dublin, Ireland (PRWEB) April 21, 2017
National pest management association survey conducted in 2010 and more recently in 2015 shows the dramatic increase in the number of bed bug infestations over the 5-year period. In 2015 10% or US$750 million per annum of the total revenue from pest management companies was from the treatment of bed bug infested properties.
The health and economic consequences of bed bug infestations are only just starting to be realised.
People can experience various forms of allergic reactions including anaphylaxis, secondary bacterial infections.
The types of properties that are being infested are also on the rise with libraries, retail outlets and Doctor's facilities being affected more since the 2010 NPMA survey. Methods for detecting bed bugs have not changed between 2010 and 2015, with visual inspection still the most used technique followed by passive traps. Unfortunately, all these methods rely on the need to see the bed bugs which is a problem if you have a small population that is intent on hiding deep in cracks and crevices in your furniture.
"The increase in bed bug infestations are a growing health concern. Modern non-visual detection methods must be developed to assist property owners in discovering efficiently if their homes or businesses are affected" said Dr. Bruce Mitchell, CEO of airmid helathgroup
airmid healthgroup offer a large array of bed bug testing options to investigate product protective mechanisms towards bed bugs. airmid have developed assays using artificial bed bug feeders to investigate if materials are bite proof to all developmental stages during the bed bug life cycle. airmid have also worked using both small and large scale barrier assays to ensure products prevent the escape of bed bugs once entrapped in a protective barrier case. More bespoke bed bug testing includes viability and repellency assays. These assays have a standard procedure which can be adapted based on the type of product that is being tested.
All testing can be adapted to test different manufacturer products such as looking at the difference between the product as a liquid vs embedded in the material.