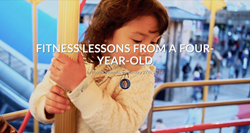 Take inspiration from the kids in your life who are 100% engaged in creating their realities from scratch, and do some of that life-building for yourself! - Patrick Reynolds, Kenzai Founder and CEO
Berkeley, California (PRWEB) April 19, 2017
In "Fitness Lessons from a Four-Year-Old", Kenzai Founder and CEO, Patrick Reynolds shares some fitness lessons he observed as he watched his child navigate her way through her fourth year of life.
Here are a few of the key observations covered in the article:
1.Entertainment Calories
Be extremely careful with the calories you consume while you're being entertained. Mr. Reynolds doesn't normally see his daughter overeat at the dinner table. It only happens when she's absorbed in a video. Seeing how profoundly this affects a four-year-old has made him adopt a "sparkling water only" rule when he watches a movie or TV show. Entertainment calories are the most elusive of phantom calories.
2. Your Friends Matter
Mr. Reynolds advises for kids and adults, to be choosy about the people you spend time with. Make friends with smart, engaged, and healthy people and you've won half the battle of becoming that way yourself. As a parent, you don't have very much influence on your kids, but you can exert some soft power around the types of kids who become their top five friends. Use this power judiciously.
3. Boredom is the compost of interesting things
Mr. Reynolds has observed that his daughter can occupy herself with high-quality toys of both physical and digital varieties. She could, if they let her, watch 16 hours of entertainment all day every day and never see the same thing twice. He said that no matter how cool the toys, no matter how flashy the 3D animated series, she started expressing real boredom in her fourth year of life. When this happens Mr. Reynolds can feel an impulse to provide her with some new type of diversion like reading a Dinosaur book, helping him chop some veggies in the kitchen, and building a Lego set.
If you endlessly plant, plow, and harvest a field, over time the soil loses nutrients and you get poorer yields. Soon you won't be able to grow anything at all. You have to let the field lie fallow sometimes. The mind is the same. He now feels like it's his duty as a parent to let his daughter feel bored a few times a week. Something fun and deeply satisfying comes out of it every time. And if he's willing to do that service for her, why won't he do it for himself? The entire Kenzai enterprise, after all, sprang from one boring year in his life when he was casting about looking for something interesting to do.
Check out the Big Ideas section of Kenzai.com to read "Fitness Lessons from a Four-Year-Old" and other thought leadership on health and fitness in the modern world.
#######
About Kenzai Inc.:
Kenzai is a Berkeley, California based health and fitness company that offers comprehensive online training programs that help people around the world connect and get into great shape. Every Kenzai program focuses on four key areas (exercise, nutrition, education, and community) to get trainees into the best shape of their lives and sustain the results.
Kenzai offers three entry level programs: Kenzai Body, a 90-day program that focuses on fast efficient bodyweight based workouts; Kenzai Run, a 56-day program that helps new and experienced runners learn to train in a more structured way with better nutrition and full body conditioning to improve performance; and Kenzai Silver, a 56-day program for seniors, ages 60 and up, who want to be more active and have more energy to do the things they enjoy in life.
Entry programs start on the first Monday of each month from January through September. Visit the Kenzai website to learn more and inquire about the entry level programs: http://kenzai.com