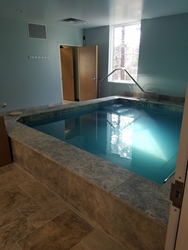 Greensboro, NC (PRWEB) April 19, 2017
BreakThrough Physical Therapy (BTPT) has relocated its North Church Street clinic to nearby Yanceyville Street. The new facility, which is one mile from the previous location via E. Cornwallis Dr., was built to allow staff to provide the same high quality care from a larger, updated facility that includes a new therapeutic pool.
"Our team is so excited to welcome our first patients into this brand-new clinic with easier access updated facilities. We look forward to showing our existing patients how we can improve their experience in this new location and introducing new patients to what we have to offer," said Clinic Director Dr. Glen Saldanha.
Though the location has changed; the patient care team remains the same and will continue to include Dr. Amy McMillion and Bryan Kidd. In addition to the new aquatic therapy offering, the Yanceyville physios are certified in Orthopaedics, Pelvic Health, and Trigger Point Dry Needling and are experts in treating conditions like muscle strains, plantar fasciitis, chronic pain, low back and neck pain, and sports injuries.
The clinic, which is located next to Old Revolutions Textile Mill, will be open Monday – Thursday from 7:30 AM to 7 PM and Friday from 7:30 AM to 4 PM. To schedule an appointment with one of Greensboro's experts in musculoskeletal care, or to learn more about aquatic therapy at BTPT, call (336) 274.7480.
Current Address
1591 Yanceyville Street, Suite 400
Greensboro, NC 27405
Previous Address
1910 N. Church Street, Suite D
Greensboro, NC 27405
About BreakThrough Physical Therapy (BTPT):
BreakThrough Physical Therapy is a locally owned private physical therapy practice that prides itself on being the Best First Choice in compassionate musculoskeletal care for patients in Apex, Cary, Cameron, Greensboro, Fayetteville, Kernersville, Morehead City, Oxford, Raleigh, Wake Forest, and Winston Salem, North Carolina. For 10 years, BTPT's physios have provided patients with a wide range of clinical expertise in manual physical therapy, women's health, general orthopaedic conditions and rehabilitation, pediatric physical therapy, trigger point dry needling, and more. BTPT is a Proud Partner of Carolina Athletics for the 2016-2017 athletic season. For more information visit BreakThroughPTclinics.com or find us on Facebook at Facebook.com/BreakThroughPT or on Twitter or Instagram at @PTBreakThrough.