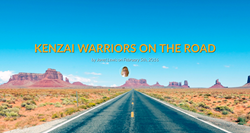 Just because you're on a business trip doesn't mean you have to stumble on your training. And there's no better feeling than arriving back at your doorstep knowing you're in better shape than when you left! - Janet Lewis
Berkeley, California (PRWEB) April 19, 2017
Staying fit and healthy has always been a challenge for the globetrotting people. "Kenzai Warriors on the Road" gives travelers advice on how to eat healthy and maintain a workout routine while on the road. Here are a few of the tips and tricks included in the article:
1. At the Airport
Avoid airport food. This holds true no matter if you are buying snacks or eating a full meal at a restaurant. Bring your own snacks to avoid those fatty temptations laid out in airport lounges. This will also prevent you from getting sucked in and ended up spending too much on food.
2. On the Flight
It's particularly important that you pre-book a low fat/low cholesterol meal if meals will be served on your flight. Since vegetables are usually missed out in the ingredients, try to bring some carrots and celery, which can withstand long periods without refrigeration. Apples are also a staple travel companion. Yogurt can be tricky, as depending on the airport, it may not make it through security. You also need to be careful of food restrictions at the port of arrival.
3. In the Hotel
Some Kenzai warriors, especially in the US, will often take advantage of supermarkets nearby to fill the fridge in their rooms with healthy foods – or pack a cooler of food if they're driving. This works well if you're in one location for a sustained period. For those who spend no more than one night or two nights in a hotel, ask the room service menu to weight out a protein portion or leave out the salt. The US is typically the biggest problem for getting vegetables for breakfast – a fried hash brown is often the only vegetable of choice. Just ask for the juice to be substituted with a piece of fruit and for a plain salad off the all-day menu.
4. Workouts on the Road
Exercise is important, but come to realize that sleep is even more important when traveling a lot. Lack of sleep sets you up for major diet failure as your willpower is depleted from the moment you wake up. The morning is typically the best time to get a workout in, especially when jet lag is involved. It helps to ensure that you're getting at least 6 hours sleep, set the alarm to give yourself time to work out before leaving. More and more hotels have 24-hour gyms, but a few – especially in Japan – don't open until 6:30 or 7 am, so it's good to do a little research. It's also worth checking (either by contacting the hotel or looking at photos) whether the ceiling is high enough to jump rope – definitely the most time-efficient cardio option.
Check out the Big Ideas section of kenzai.com to read "Kenzai Warriors on the Road" and other tips on how to stay fit and healthy in the modern world.
#######
About Kenzai Inc.:
Kenzai is a Berkeley, California based health and fitness company that offers comprehensive online training programs that help people around the world connect and get into great shape. Every Kenzai program focuses on four key areas (exercise, nutrition, education, and community) to get trainees into the best shape of their lives and sustain the results.
Kenzai offers three entry level programs: Kenzai Body, a 90-day program that focuses on fast efficient bodyweight based workouts; Kenzai Run, a 56-day program that helps new and experienced runners learn to train in a more structured way with better nutrition and full body conditioning to improve performance; and Kenzai Silver, a 56-day program for seniors, ages 60 and up, who want to be more active and have more energy to do the things they enjoy in life.
Entry programs start on the first Monday of each month from January through September. Visit the Kenzai website to learn more and inquire about the entry level programs: http://kenzai.com