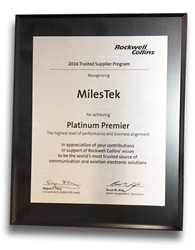 "We are honored to be receiving this great recognition...This award is a testament to our goal of being the supplier of choice with the highest levels of quality, service and on-time delivery," said Darrell Wilczynski, VP of Operations
DENTON, Texas (PRWEB) April 20, 2017
MilesTek, a leading manufacturer and supplier of products designed to address military and avionics applications, announced today that they recently received the prestigious Rockwell Collins Platinum Premier Award.
The Rockwell Collins Platinum Premier Award is given to top performing suppliers who have maintained the highest levels of quality, delivery and business alignment. The Platinum Premium Award is the highest level a company can achieve in Rockwell's Trusted Supplier Program.
"We are honored to be receiving this great recognition from Rockwell Collins," said Darrell Wilczynski, Vice President of Operations. "This award is a testament to our goal of being the supplier of choice with the highest levels of quality, service and on-time delivery. We are looking forward to our continued partnership with Rockwell Collins in the years to come," said Wilczynski.
Rockwell Collins' Trusted Supplier Program is designed to foster collaboration with its supplier network to improve efficiencies and drive performance. It also provides a formal framework to inform suppliers of how they're performing, recognize achievements and celebrate collective successes.
For more information about this release, please contact:
Peter McNeil
MilesTek
17792 Fitch
Irvine, CA
978-682-6936 x1174
About MilesTek:
MilesTek designs and manufactures a broad range of MIL-STD-1553B products to address Military Avionics, Aerospace, Industrial and government applications. In addition to a wide selection of off the shelf products, MilesTek can custom manufacture cable assemblies and harnesses. MilesTek is headquartered in Denton, Texas and is AS9100C and ISO9001:2008 certified. MilesTek is an Infinite Electronics company.