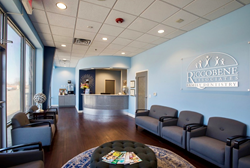 Riccobene Associates Family Dentistry Bringing Smiles to Mebane, NC!
MEBANE, NC (PRWEB) April 20, 2017
Riccobene Associates Family Dentistry, the Research Triangle's premier family-oriented multi-specialty dental practice, has opened an office in Mebane on March 6th, 2017. The office will be located at 1931 South NC Highway 119, Mebane, NC 27302, and can be reached at (336) 792-3747.
Riccobene Associates Family Dentistry, founded by Dr. Michael Riccobene in 2000, prides itself on its patient-centric care, state of the art dental technology, and commitment to ongoing education for all of its dental staff. Building on these values, Riccobene Associates has grown from one to thirteen locations, earning "Best Dentist in Wake and Johnson Counties" awards from Angie's List and Cary Magazine for more than 10 years.
"Our priority is providing gentle, trusted dental care and treatment that meets our patients' needs and fits in their budgets," explains Dr. Riccobene. "We're excited to bring a different kind of dentistry to our new neighbors in Mebane."
The Mebane office of Riccobene Associates will focus on comprehensive dental care, including general, cosmetic, and sedation dentistry. However, patients who need specialty care will have access to the full suite of services Riccobene Associates Family Dentistry provides, including orthodontics and endodontics, at its network of practices in the Research Triangle area.
Dr. Anthony DeStefano, DMD, will be the lead dentist at Riccobene Associates Family Dentistry's Mebane practice. A native of Pennsylvania, Dr. DeStefano earned his DMD from the prestigious University of Pittsburgh School of Dental Medicine, and completed additional post-graduate work at The Ohio State University Medical Center. After operating private practices in Pennsylvania and Morrisville, Dr. DeStefano is thrilled to be part of a larger dental team providing patient-centric care to North Carolinians. Although he's lived in North Carolina for several years with his wife and son, he's excited to get to know Mebane--and all his new patients--better.
# # #
For additional information, contact:
Jeff Kovatch
Director of Marketing and Development
Riccobene Associates Family Dentistry
(973) 809-5466 Cell
jeff.kovatch(at)brushandfloss.com