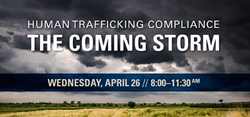 Washington, D.C. (PRWEB) April 19, 2017
ISOA Human and Labor Trafficking Business-Breakfast Forum - Register Today!
Wednesday, April 26, 2017 - 08:00
FAIRVIEW PARK MARRIOTT HOTEL
3111 Fairview Park Dr
Falls Church, VA 22042
https://stability-operations.org/events/2017/human-labor-trafficking
OVERVIEW:
After several years of government-sponsored awareness campaigns, the attention of government agencies and whistleblowers has shifted to aggressively enforcing human trafficking laws and regulations. Don't be caught unaware. Join our panel for a timely discussion of the next major compliance challenge for government contractors:
Zero Tolerance: Procurement officials' expectations of contractors
Certification: Implications for due diligence and monitoring of subcontractors and suppliers
Storm Warning: What enforcement will look like; grave risks to non-compliant contractors
WHO SHOULD ATTEND:
Corporate Executives, Legal, Compliance, and Contracting staff responsible for ensuring companies' adherence to human trafficking laws.
FAIRVIEW PARK MARRIOTT HOTEL
3111 Fairview Park Dr
Falls Church, VA 22042
SPEAKERS:
LINDA DIXON
Director of the Combating Trafficking in Persons Office (CTIP), DoD
LARRY McLAURY
Defense Procurement Acquisition Policy (DPAP), DoD
RYAN BERRY
CEO, Chaintegrity
NICK FORSTER
Senior Vice President, FSI Worldwide
REGISTRATION:
MEMBERS: $300
NON-MEMBERS: $500
GOVERNMENT PERSONNEL: $50
AGENDA:
8-9AM: Registration, networking, and full buffet breakfast
9-11AM: Remarks and discussion with Government & Industry Leaders
11-11:30AM: Networking
https://stability-operations.org/events/2017/human-labor-trafficking